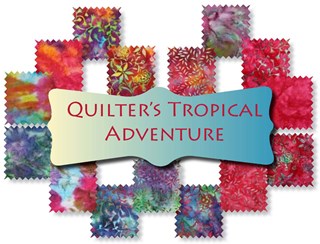 Batik Pastry Roll Posse Club Review
Batik Pastry Roll Posse Club has not been rated yet.
Write a review
Scroll Over Image for Close-up!
Batik Pastry Roll Posse Club
ProductID: ZM-QTA-PR12
$2.40
$3.00
Reservation Deposit
Sign up for Homespun Hearth's Quilter's Tropical Adventure Pastry Roll Posse, and receive 15 gorgeous Batiks every month. At the beginning of each month we will automatically ship you a new collection of 15 batiks from one of our Batik Masters -- to include Princess Mirah, Island Batik, Hoffman Batiks, Moda Batiks & More. Pastry Rolls Measure 12" x 43" for each in the collection - that's a 1/3 yard cut of each!

The cost of each month's Pastry Roll Posse Shipment is $52.50 plus shipping costs (approx $4.95 Domestic & $13.30 International). $3 Membership Fee.
Fabric Type: Batik Quilting Fabric
Item Tags: Batik Boutique, Quilters Tropical Adventure, Exclusive Clubs, Homespun Hearth Special, Batik, Batik 12 Pastry Roll Posse, Fabric, Quilt Fabric