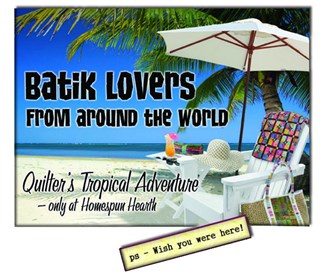 Batik Quilt Lovers Mystery Adventure Review
Batik Quilt Lovers Mystery Adventure has not been rated yet.
Write a review
Scroll Over Image for Close-up!
Batik Quilt Lovers Mystery Adventure
ProductID: Zm-QTA-Exx1
$2.40
$3.00
Reservation Deposit
Join Homespun Hearth's Batik Quilt Lovers Adventure Club and every-other month (5 per year) we will automatically send you a new 'Excursion' - a Mystery Batik Quilt Kit and coordinating Batik Tote Kit.   

Mystery Batik Quilt Kit & Tote Excursion Months:
March - Lap Quilt & Tote - $99
May - Full Size Quilt & Tote - $149
July - Twin Quilt & Tote - $129
September - Queen Quilt & Tote - $179
November - Lap Quilt & Tote - $99

The shipments each month include all of the Batik fabric to complete a quilt top (including binding) a tote, and easy-to-follow instructions.   The collection for each month is from one of our Batik Masters -- to include Princess Mirah, Island Batik, Hoffman Batiks, Moda Batiks & More.

Coordinating Backing is also available - if you select the backing, you will be charged for the required amount for each month's shipment and will receive a 5% discount on your backing fabric. 
The size and cost of the Bi-Monthy Batik Mystery Adventure Kits range as shown next to each month's schedule.  The prices reflect the member's 5% discount on each month's auto ship, and shipping costs not included.
Item Tags: Batik Boutique, Quilters Tropical Adventure, Kit of the Month, Exclusive Clubs, Homespun Hearth Special, Batik, Batik Adventure, Fabric, Quilt Fabric
Customers who bought this item also bought: