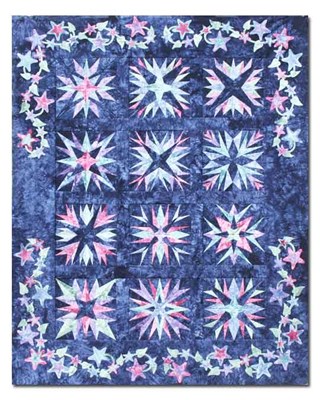 Midnight Stars Block of the Month
Start Any Time! Review
Midnight Stars Block of the Month
Start Any Time! has not been rated yet.
Write a review
Scroll Over Image for Close-up!
Midnight Stars Block of the Month
Start Any Time!
ProductID: ZM-SQ406bom
$10.00
Reservation Deposit
A stunning quilt that highlights 12 gorgeous Midnight Stars! Featuring hand dyed fabrics, each star looks so complicated, but the difficulty disappears as each is made easier with paper foundation piecing!

Each month's kit contains pattern, foundation paper, instructions and fabric to complete a 12" star. Borders, applique, and binding fabrics are also included throughout the program.  

The monthly cost is $22.99 per month plus shipping costs.

Measured Quilt Finishes as a  throw size 57" x 71"

All at Once is also available -- all of the fabric kits will ship in one shipment, US Shipping is Free, and it generally takes approx 3 weeks to ship.

You can join the 12 month program at any time, and you can select to receive the Standard Option -  one block per month, or if you prefer, you may select the Express option - two blocks per month.  Two blocks per month will help to reduce your overall shipping costs. Your first block/s will ship the month following your initial reservation.

Kits are sent the 3rd week of each month. 
You may also select to receive your backing fabric.  The backing fabric for this quilt is prorated to $9 per month for the 12 months and will be sent with the final shipment.  Additional exact shipping costs for the final month will apply for those who select the backing costs. 

This kit is also available All at Once.  Click Here for Information.


Fabric Type: 100% Cotton Quilting Fabric
Item Tags: Art Quilts, Teresas Treasures, Block of the Month, Quilt Kits, Starr, QuiltBOM, Hand Dyed Fabric Quilt Kit, Quilt Kit, Quilt Fabric