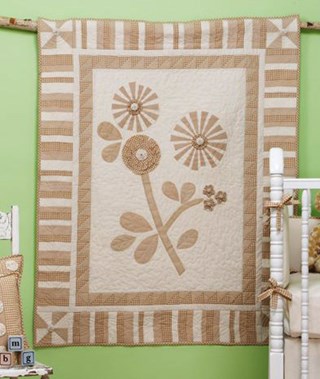 Organic Cotton Quilt Kit in Michael Miller Organics Review
Organic Cotton Quilt Kit in Michael Miller Organics has not been rated yet.
Write a review
Scroll Over Image for Close-up!
Organic Cotton Quilt Kit in Michael Miller Organics
ProductID: ZK-OC001
100% Organic Cotton the Organic Garden Quilt Kit is designed by Marinda Stewart for Michael Miller Organics.  Add that something special to your baby's nursery with the Organic Garden quilt.  Made from a combination of the Gingham Check, tea dyed Sheeting and natural Sheeting, throw in some YoYo's and finish with the Gingham Bias Trim, this quilt will go together in a snap.   Finished quilt measures 40" x 50", perfect for the nursery wall or crib.  Add some decorative accent pillows and a Sherpa bunny, for a warm and cozy room for baby!  Kit includes all the fabric required to make the quilt top, including binding (backing available below). 
Add 1 1/2 yards of coordinating backing fabrics... imagine the softness of a Sherpa backing, or the stylish Herringbone Check, the durability of Fleece, or the practical Terry... anyone will be a hit, and the best thing is you get to pick which one will be best for you!
Click
here to view the "Born From Nature"
 booklet by Michael Miller Organics for more organic
ideas
.
Each fabric in the Michael Miller Organics collection is certified 100% organic which means the cotton was grown without the use of pesticides or chemicals. Each fabric is produced in a facility that is certified for purity, so you can be assured you are getting the best for you and for the environment.
Fabric Type: 100% Organic Cotton Quilting Fabric
Item Tags: Organic Kits, Applique Kits, Kits, Fabric, All About Baby, Baby Kits, Quilt Kits, Quilt Fabric, Michael Miller Fabrics, Organic Fabric, Michael Miller Organics, Organics Collection
More Favorites Related to this Item: