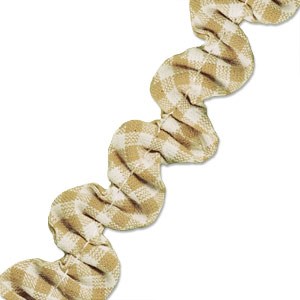 Organics Gingham Ruffle Rac - Tan Review
Organics Gingham Ruffle Rac - Tan has not been rated yet.
Write a review
Scroll Over Image for Close-up!
Organics Gingham Ruffle Rac - Tan
ProductID: ZF-OCRR3603-Tan
100% Organic Gingham Ruffle Rac by Michael Miller Organics.  Add extra detail with this gingham gathered trim. To add natural color combinations to your project, you can easily tea dye or vegetable dye the cotton sheeting.  See below for the the booklet by Michael Miller Organics for more organic ideas.

Each fabric in the Michael Miller Organics collection is certified 100% organic which means the cotton was grown without the use of pesticides or chemicals. Each fabric is produced in a facility that is certified for purity, so you can be assured you are getting the best for you and for the environment. Minimum 1 yard cut.
Fabric Type: 100% Organic Cotton Quilting Fabric
Item Tags: Quilt Fabric, Michael Miller Fabrics, Organic Fabric, Michael Miller Organics, Organics Collection, Fabric Trim