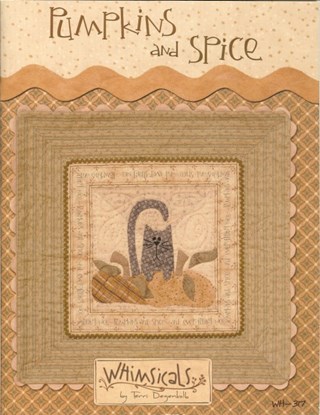 Pumpkins and Spice Book Review
Pumpkins and Spice Book has not been rated yet.
Write a review
Scroll Over Image for Close-up!
Pumpkins and Spice Book
ProductID: ZB-WH317
By: Whimsicals Quilts ~ Terri Degenkolb, Whimsicals Quilts, Terri Degenkolb
Terri Degenkolb of Whimsicals has really out done herself in her latest book, "Pumpkins and Spice".  The quilts and projects feature Whimsicals new fabric line also named "Pimpkins and Spice" by Red Rooster Fabrics.  In Terri's words, "... I love Fall.  The leaves, the colors, the smells.  They are all so comforting to me.  And what better way to celebrate that comfort than with quilts and wool?  It was fun and challenging coming up with some smaller projects to do with the panel print.  And I added in "spice" by trying some different edges, trims, and a few "just for fun" projects.  I hope that you enjoy them!"
Item Tags: Wool Applique, Quilt Books, Quilt Patterns, Books, Whimsicals, Quilts and Wool Applique, Quilt Designs, Whimsicals Quilts, Pattern, Book