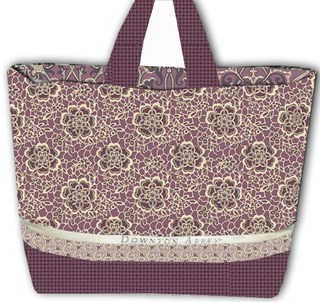 Scroll Over Image for Close-up!
LAST ONE! Downton Abbey's "Dowager Countess High Tea" Purple Large Tote Kit
ProductID: ZK-DADC100-Purp
By: Laurel Burch
A beautiful tote bag that features the Dowager Countess Downton Abbey Collection by Andover fabrics. The bag measures 16 1/2" wide at the top, by 12" tall and 4" deep, plus there are 16 pockets inside, and it is a No Sag Bottom!

The basic kit includes all of the fabric required to complete the bag, including lining, and the "Downton Abbey" print fabric that is in the small light border of the tote, as well as the easy-to-follow and fun-to-sew instructions (with photos!) by Pink Sand Beach. Interfacing not included.
Item Tags: Aurifil Thread, Thread Packs, Laurel Burch Thread, Aurifil Thread Club, Laurel Burch Bags
Customers who bought this item also bought: