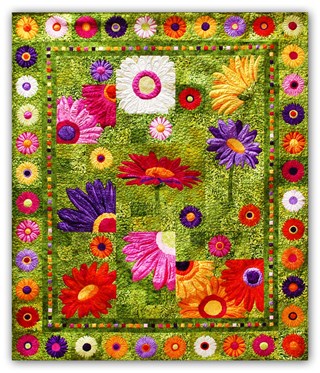 Full Bloom Batik Quilt Kit - Free US Shippng! Review
Full Bloom Batik Quilt Kit - Free US Shippng! has not been rated yet.
Write a review
Scroll Over Image for Close-up!
Full Bloom Batik Quilt Kit - Free US Shippng!
ProductID: ZK-FB-All
By: 4th & 6th

Refreshing. Riveting. Defining.

Isn't it time you freshened up your garden? Well, if you are like me, the only way to do that is with fabric ... and this design knocks it out of the park! Featuring stunning designer batiks by Island Batik, this quilt uses a newly developed technique by 4th & 6th designs - something so refreshing and different, you are going to wonder why you didn't think of it!

The finished quilt measures 80" x 96" - nice for a Double or even Queen sized bed. There is also a 40+ minute tutorial that will be provided for you to see exactly how to do this wonderful new applique method. Because of this informative and easy-to-follow hands-on tutorial, even a relatively new quilter can take on this project. This will combine machine applique and piecing techniques.

Optional Items
Other items you may want to reserve here include Roxanne's Glue Baste It 2oz Bottle, and Sulky's Totally Stable (20" x 5 yards) - both recommended for the Edge Color Applique.

We are very excited about this new design, technique, and refreshing quilt - and we think you will be, too!

US Shipping is Free & Our International Customers will receive a 20% Shipping Discount.
Item Tags: Designer Batiks, Edge Color Applique, Island Batik Quilts
*Please Note
-
Layaway available on this item
More Favorites Related to this Item:
Customers who bought this item also bought: