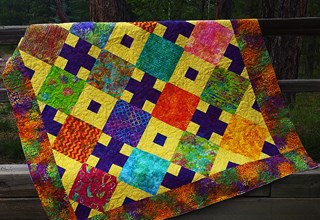 Batik Diamonds Afternoon Quilt Kit Review
Batik Diamonds Afternoon Quilt Kit has not been rated yet.
Write a review
Scroll Over Image for Close-up!
Batik Diamonds Afternoon Quilt Kit
ProductID: ZK-HS6587
By: Homespun Hearth Exclusive Design
$125.88
$139.87
per quilt kit
This is such a bright and happy quilt - the rainbow colors will liven up any day! This beautifully bright batik kit is so easy, you can get it done in one afternoon. Featuring Michael Millers pre-cut batik Rainbow squares, no fuss points, and quick piecing, this is a perfect beginner design. The finished quilt measures 66" x 76", and the quilt kit includes all of the fabric required to complete the quilt top, including binding and easy-to-follow instructions. Coordinating Backing is also available.
Item Tags: Batik Quilts, Beginner Quilts, Fun and Easy Quilts
*Please Note
-
Layaway available on this item