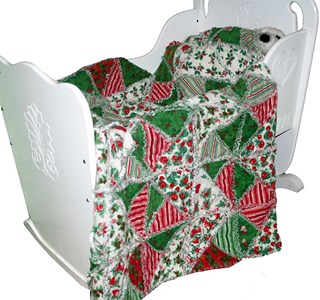 Scroll Over Image for Close-up!
Only 1 Left! Baby's First Christmas Snuggler
Includes Backing!
ProductID: ZK-HSbb843
Back Again This Winter by Popular Demand - Your little angel will love this wonderful snuggler -- perfect to keep pink little tippy toes so nice and warm!

Featuring Christmas Kitsch flannels by Chole's Closet for Moda, this is the softest flannel ever and we added a bit of a twist to the snuggler ... just like little Peppermints!

The kit includes all of the fabric required to make the pint sized snuggler (measures approx 50" x 55") including backing fabric and easy-to-follow instructions. More than 7 1/2" yards flannel is included. You can increase the size of the quilt by purchasing extra kits as well.
Fabric Type: Flannel
Item Tags: Easy Rag Quilt, Flannel Quilt Kits, Rag Quilt Kit, Quilt-as-You-Go kit. Baby Christmas Quilt
*Please Note
-
Layaway available on this item
Customers who bought this item also bought: