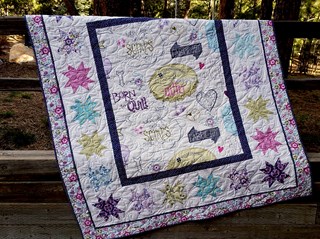 Love Laugh Quilt Kit Review
Love Laugh Quilt Kit has not been rated yet.
Write a review
Scroll Over Image for Close-up!
Love Laugh Quilt Kit
ProductID: ZK-LLAH100
By: Kati Cupcake
With fun little sayings on the panel, like Born to Quilt, This is My Happy Place, Eat Sleep Quilt, and so many more of those sayings we've adapted as quilters, we believe that this is the absolute perfect quilt made Just For Quilters! Featuring the Laugh Love Quilt fabric by Amy Hamberlin of Katy Cupcakes for Henry Glass Fabrics.

This quilt measures 62" x 71", and the kit includes all of the fabric required to complete the quilt top as shown, including binding and instructions.

Requires 4 yards backing - sold separate
Item Tags: Pieced Quilts Perfect for Quilters!
*Please Note
-
Layaway available on this item
Customers who bought this item also bought: