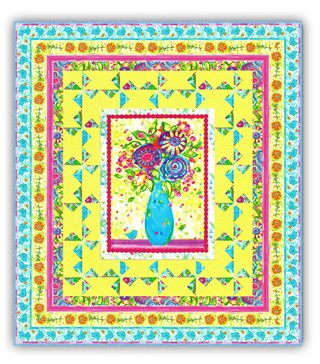 Love in Bloom Arm Chair Quilt Review
Love in Bloom Arm Chair Quilt has not been rated yet.
Write a review
Scroll Over Image for Close-up!
Love in Bloom Arm Chair Quilt
ProductID: ZK-LiB100
By: Susan Day
Love is in the air with this romantic quilt designed by Susan Day. The Digitally Mastered fabric by P&B Textiles Next Generation captures millions of colors and is a trend-setter in the fabric industry! The colors and detail are exciting to quilters around the world, and the possibilities are endless.

This quilt measures 46" x 52" and is perfect as an Arm Chair throw. The quilt kit includes all of the fabric required to complete the quilt top as shown, including binding. Optional backing is also available.

This is a good quilt for a beginner wishing to advance skills.
Item Tags: Digitally Printed Fabrics, Romantic Fabric