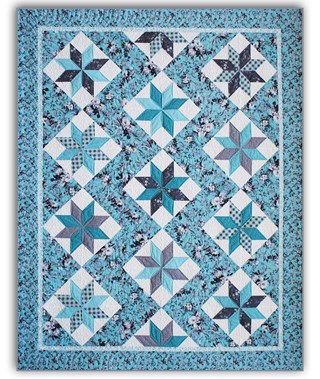 The Marie Antoinette Dowry Quilt - Blue Review
The Marie Antoinette Dowry Quilt - Blue has not been rated yet.
Write a review
Scroll Over Image for Close-up!
The Marie Antoinette Dowry Quilt - Blue
ProductID: ZK-MA100-Blue
By: Deborah Edwards - Northcott Studios
$76.49
$84.99
per quilt kit
All things feminine, this beautiful quilt features the Marie Antoinette fabrics by Deborah Edwards for Northcott Fabrics. These Soft Turquoise Blue and Gray fabrics have romantic floral bouquets, lavish scrolls, and sweet singing birds - you can just imagine yourself at the Palace of Versailles!
The finished quilt measures 60" x 78" and there are no Y seams with this design - it looks complicated but is not!
The quilt kit includes all of the fabric required to complete the quilt top as shown, including binding fabric as well as easy-to-follow instructions. The optional diamond ruler is helpful but not required. Optional coordinating backing is also available.
This quilt is also available in
Blush Pink - shown here.
Item Tags: Exclusive Quilt Designs, Northcott Fabrics
*Please Note
-
Layaway available on this item
Customers who bought this item also bought: