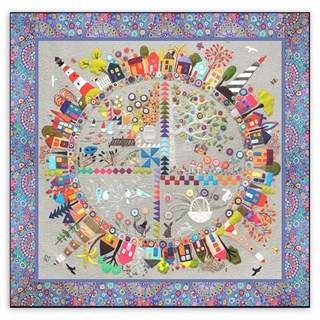 New! Round the Garden Customized Quilt Kit! Linen & Wool Felt. Free US Shipping! Review
New! Round the Garden Customized Quilt Kit! Linen & Wool Felt. Free US Shipping! has not been rated yet.
Write a review
Scroll Over Image for Close-up!
New! Round the Garden Customized Quilt Kit! Linen & Wool Felt. Free US Shipping!
ProductID: ZK-RTG1000-Linen
By: Wendy Williams
$157.50
$210.00
per quilt kit
This sensational and award winning quilt can now be yours! Designed by Wendy Williams from down under, we are offering this quilt to be customized to the perfect quilt for you! Filled with some of our favorite things, from bunnies and roosters and birds, to sail boats, lighthouses, and birdhouses, plus baskets, vases, and large beautiful tree to anchor the design. This is an applique quilt that will be a family heirloom for generations to come!
This version is for the Linen & Woolfelt Quilt Kits.
We also have a Matka Silk and 100% Hand Dyed Wool Version Here!
About the Custom Quilt
This quilt measures 64 1/2 " x 64 1/2" and the kit includes the Essex Cotton Linen background in your choice of 3 background colors (natural, black, gray) and also includes more than 3 dozen different colors of high quality wool felt. Plus US Shipping is free, and our International customers receive a 20% Shipping discount.
Note: These kits are cut to customized order, so please allow 2-3 weeks delivery, as demand dictates.
Optional Border Fabrics
You also have the option to receive a Kaffe Fasset Border. We have 3 wonderful options below. This option includes no-piece outer and inner borders, plus the binding fabric. Or, perhaps you have your own border fabric that you would prefer to use.
A. Medium Blue      B. Soft & Light  C. Small Floral with Gray



Round the Garden Pattern Set
You may recognize and have this pattern from the Simply Modern Magazine. This is required to complete the design. You will need either the magazine or the pattern set to complete this quilt. The pattern also includes details on what type of stitch to use where (ie: whip stitch, vs backstitch, vs herringbone, as well as 12 pages of full-sized templates. The pattern set is $40.

Optional Valdani Thread Kits
We also are offering a special Round the Garden Valdani Perle sz 8 floss pack. The cost is $93.32 and it includes a total of 16 rolls (showing 12), including beautiful variegated colors and the required white and greens.
Swarovski Round The Garden Bling!
This is the PERFECT quilt to add bling! We are offering a 3000 Swarovski Hot-Fix crystal set for this quilt! The cost is just $285 (that's just .095¢ per crystal!), and nearly 2 dozen colors!
Optional Backing
We hare also offering optional backing for this quilt.
Item Tags: Applique Quilt Kits
*Please Note
-
Layaway available on this item
More Favorites Related to this Item:
Customers who bought this item also bought: