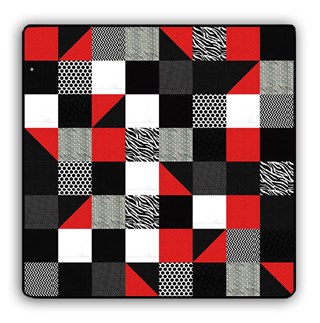 Sassy Snuggler
Includes Backing! Review
Sassy Snuggler
Includes Backing! has not been rated yet.
Write a review
Scroll Over Image for Close-up!
Sassy Snuggler
Includes Backing!
ProductID: ZK-SNUG-Sassy-Snuggler
By: Homespun Hearth Exclusive Design
$108.74
$144.99
per quilt kit
Do you have somebody you know who is so loveable .. but just a little bit sassy? Well, we have the perfect snuggler that just might help cure the sassies! This snuggler features the coziest Minky and Cuddle Shannon Fabrics in Black and Whites, a little gray and some sassy red. Measures 72" Square. Your sassy one will get so cozy under this, she'll certainly not even have a hint of sassy while under it's spell! The quilt kit includes all of the fabric required to complete the quilt top including single-piece backing and flannel binding as well as the easy-to-follow instructions. YOu can choose to make this a really quick quilt, too - with the Quilt-as-You-Go method, which is also included in the instructions.
Item Tags: Easy Rag Quilt, Minky Quilt Kits, Quilt-as-You-Go kit,, Teen Age Girl Quilt
*Please Note
-
Layaway available on this item
More Favorites Related to this Item:
Customers who bought this item also bought: