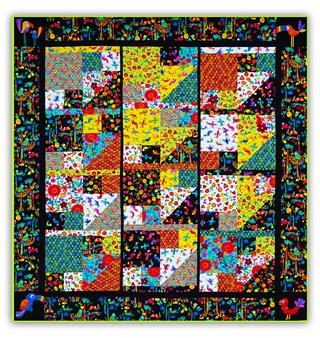 Viva Brazil Quilt Kit - One, Two, Three, Go! Review
Viva Brazil Quilt Kit - One, Two, Three, Go! has not been rated yet.
Write a review
Scroll Over Image for Close-up!
Viva Brazil Quilt Kit - One, Two, Three, Go!
ProductID: ZK-VB1000-www
$57.82
$96.37
per quilt kit
Part of our Whizzy Weekender Whip Up, you will have this made in a flash! This is an easy quilt - perfect for a beginner quilter or if you need to make up something cute and fast.

Such a fun quilt by Paradise Quilt Designs - they say this quilt can be made in just a few hours, thus One, Two, Three, Go! As a Fat Quarter Friendly quilt, and with lots of large pieces, this really does go together quickly.

This quilt features the Viva Brazil Fabric by Kanvas for Benartex fabrics. Includes the fun fabrics of Black Birds of Paradise, Aqua and White Rainforest Garden, White, Black, and Lime Passion Fruit, White, Black & Yellow Rainbow Parrots, Pink/Orange, Blue/Green, and White/Multi Sunsetter Geometrics.

Be sure to scroll over the pictures so you can see the fun birds - easy iron-on applique, plus several options of bird designs are included in the pattern!

The overall quilt measures 72" x 76", and the kit includes all of the fabric required to complete the quilt top as shown, including binding and easy-to-follow instructions.


Item Tags: Fun and Bright Quilts, Olympics 2016, Brazillian Quilts