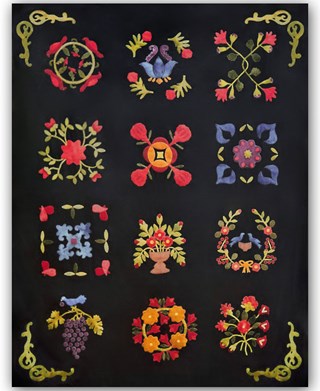 Baltimore Brides Quilt on Matka Silk Block of the Month
Start Anytime! Review
Baltimore Brides Quilt on Matka Silk Block of the Month
Start Anytime! has not been rated yet.
Write a review
Scroll Over Image for Close-up!
Baltimore Brides Quilt on Matka Silk Block of the Month
Start Anytime!
ProductID: ZM-BBQ100-Silk
By: Lakeview Primitives ~ Jackie Aspessos
$24.99
Reservation Deposit
This Brand new design inspired by an 1847 Baltimore Brides Quilt, has been adapted to wool by Jackie Bennett. This gorgeous reproduction quilt marries matka silk and wool. The background is black Matka Silk and the the motifs are hand-dyed wool applique. The 12 block quilt measures 68" x 83"

For the first 12 months you will receive the wool, Matka Silk, floss, and easy-to-follow instructions required to complete the block. On the 13th and final month you will receive the final finishing kit and instructions, which includes the Matka Silk backing. The cost of the BOM is $57.81 plus shipping costs per month for 13 months, plus the non-refundable reservation fee. The blocks will be sent on or around the 2nd Monday of each month.

If you prefer, we also have this available in Light Natural Matka Silk background (no image). The cost is the same - please be sure select that option to your right.

This Kit is also available All at Once. The cost of the All at Once is $751.53 one week before we ship, plus the reservation fee. US shipping is free with the All at Once and International recieves an $8 shipping discount. 2-5 week shipping on this option.
Coordinating Textured Silk Matka backing is also aviailable.  The cost of the backing is $180, and will be sent with your first order if you select the BOM or with your All at Once Kit.

To see view this quilt with a Flannel background option, click here.
Notes about our BOM Programs
•Should you be participating in more than one BOM with us, we will combine your orders to save you on shipping costs!
•Also, please note - while we do accept Paypal for the Reservation Deposit, we will need a credit card on file for the duration of the program.
•For optional items that you reserve, these will be charged and ship on the first month.
•Finally, should you make a mistake on your block, and if we have the fabrics in stock, we will replace the fabric
at no extra cost to you!
Item Tags: Wool applique quilt, Wedding Quilt
More Favorites Related to this Item: