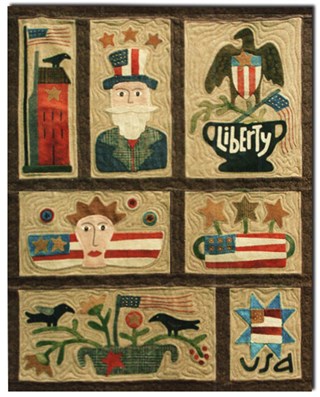 Spirit of America Wool & Silk Quilt Kit
Block of the Month
Start Anytime! Review
Spirit of America Wool & Silk Quilt Kit
Block of the Month
Start Anytime! has not been rated yet.
Write a review
Scroll Over Image for Close-up!
Spirit of America Wool & Silk Quilt Kit
Block of the Month
Start Anytime!
ProductID: ZM-BBSofA100
By: Buttermilk Basin ~ Staci West
$5.00
$9.99
Reservation Deposit
This wonderful rustic quilt captures the Spirit of America - with Lady Liberty and Uncle Sam, the American Eagle, our Flag, Stars and Stripes, this is sure to please the most patriotic of quilters.

Our quilt kit features beautiful hand-dyed wools appliqued on a gorgeous Matka Silk, and the finished quilt measures 40" x 50" - perfect for a showcase spot in your home.

You can begin this program any time. The kit includes all of the wool and silk required to complete the quilt top, including silk sashing and borders, binding, and easy-to-follow instructions. We offer 3 different programs to fit each customer's needs.

Regular Block of the Month - an 8 Month Block of the Month - $39.99 per month plus shipping costs.

Accelerated Block of the Month - a 4 Month Block of the Month (2 per month) - $79.98 per month plus shipping cost.
All at Once - Free US Shipping We also offer the All at Once version. The cost is $299 plus free US Shipping. There is also a non-refundable $9.99 deposit which helps cover the initial start up costs.

Optional Backing
A Silk Matka backing is available to order. The cost is $66 and will ship with your first month.

Fun Facts about our BOM Programs
•Should you be participating in more than one BOM with us, we will combine your orders to save you on shipping costs!
•Also, please note - while we do accept Paypal for the Reservation Deposit, we will need a credit card on file for the duration of the program.
•For optional items that you reserve, these will be charged and ship on the first month.
•We do ask that if you begin a program, you finish it as well. However, if something comes up (and we know it certainly can!) and you need to stall the program for a certain amount of time, that is fine - just let us know. We know things happen!

•Finally, should you make a mistake on your block, and if we have the fabrics in stock, we will replace the fabric at no extra cost to you!




Item Tags: Wool and Matka Silk Quilt, Wool Applique Quilt