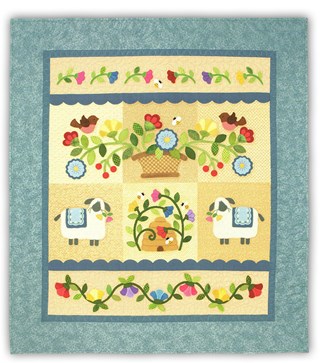 Flowers for Ewe WOOL BOM or All at Once
Join Anytime Review
Flowers for Ewe WOOL BOM or All at Once
Join Anytime has not been rated yet.
Write a review
Scroll Over Image for Close-up!
Flowers for Ewe WOOL BOM or All at Once
Join Anytime
ProductID: ZM-BWEweWool
$11.99
Reservation Deposit
Sheep with attitude are featured in this adorable wall hanging that will brighten up any wall or drape over your favorite arm chair. By Brandywine designs, this quilt 40.5" x 46", and we offer this in a Block of the Month Version or All at Once.
We offer this in two different versions: Wool applique on Cotton, or you can go
Here for Cotton applique on Cotton.
We use similar fabrics as shown in the original.
Pattern Booklet
The Pattern Booklet is required. If you don't have the pattern, then please be sure to reserved it here. We will send it with your 1st block.
Block of the Month
The Wool on Cotton Block of the Month, costs $29.99 plus shipping per month for 8 months plus non-refundable reservation deposit.
All at Once - Free Shipping
We also offer this as an All at Once version. The cost of the All at Once is $239.92 charged one week before we ship plus the deposit, and US shipping is FREE.
Backing
We offer Backing - Cotton for $29.99.
Coordinaing Thread Pack
We recommend silk thread for your wool applique projects, and we have that, as well as Valdani perle cotton, available for this project. If you like, you can either select a 12 pack Valdani Thread Pack or the 12 pack Kimono Silk Thread Pack - both are $71.88. If you would like to order the complete Kimono 80 spool silk pack, the total is $429.99, a savings of $50 over the regular $479.99 price. Please note - you can also use the silk thread in your machine.
Notes about our BOM Programs
•Should you be participating in more than one BOM with us, we will combine your orders to save you on shipping costs!
•Also, please note - while we do accept Paypal for the Reservation Deposit, we will need a credit card on file for the duration of the program.
•Reservation fees are part of the overall cost of the program and are non-refundable.
•For optional items that you reserve, these will be charged and ship on the first month.
•Finally, should you make a mistake on your block, and if we have the fabrics in stock, we will replace the fabric
at no extra cost to you!
Fabric Type: 100% Cotton Quilting Fabric
Item Tags: Wool Applique Spring Quilt Kit
More Favorites Related to this Item: