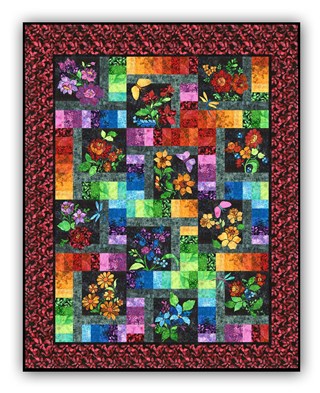 New! Floragraphix Batik with Red Leaf Border Block of the Month or All at Once - Starts January 2019! Review
New! Floragraphix Batik with Red Leaf Border Block of the Month or All at Once - Starts January 2019! has not been rated yet.
Write a review
Scroll Over Image for Close-up!
New! Floragraphix Batik with Red Leaf Border Block of the Month or All at Once - Starts January 2019!
ProductID: ZM-FloraGraphix-Red
By: Jason Yenter
$11.99
Reservation Deposit
We are so looking forward to this beautiful and bright Block of the Month or All at Once kit! Floragraphix, by Jason Yenter for In the Beginning Fabrics, is one of those quilts that will make you feel so bright and cheerful. Combining some raw edge applique and piecing, this stunning Block of the Month will grow into a beautiful quilt garden over the course of 12 months! This beautiful kit measures 48" x 64" - a lovely lap size quilt.
Additional Kit Options
Along with this Red-Border version, we also offer this quilt with the traditional no-border option, as well as 2 additional outer border options! The bordered quilts measure 60" x 76" and can fit the top of a twin-sized bed, and the original size is 48" x 64".
Click here to see the complete offering.
Kit Information
The kits included all of the Floragraphix Batik fabric to complete the quilt top as shown, including a strip pack for easy strip piecing for the sashing, as well as binding and instructions. This is offered as either a Block of the Month, or you can also select to receive the entire kit at one time.
This version also has the Red Outer Border option. The cost for this option is $19.72 and it also includes the extra binding required. This will be charged and sent with the first month's block.
Block of the Month
The Block of the month, scheduled to begin in January 2019, costs just $16.99 per month plus shipping costs and the initial reservation deposit. The BOMs for you are cut at the beginning to ensure consistent dye lots, and you can opt to receive all of your remaining blocks at any time.
All at Once Kit - Free US Shipping!
You can also elect to receive your entire kit All at Once time (also shipping in January). The cost for the entire kit is $203.88 plus the initial reservation deposit, and US Shipping is Free (our International Customers receive a 20% Shipping Discount).
Coordinating Backing
Coordinating Backing is also available for this larger size. The cost is $51.20 and the backing will ship with the 1st month's block.
Optional Kimono Silk Thread Pack
We have put together a 24 pack of Kimono Silk Thread for this project. Glorious and bright, the 200 yard spools, 24 colors is $143.76, and will ship with your first month.
Optional Swarovski Crystal Hot-Fix Bling Pack
We also offer a gorgeous 20-color collection of Swarovski Crystals for this kit. You will receive 100 each of 20 different colors (2000 crystals, for $180.
Fun Facts about our BOM Programs
•Should you be participating in more than one BOM with us, we will combine your orders to save you on shipping costs!
•Also, please note - while we do accept Paypal for the Reservation Deposit, we will need a credit card on file for the duration of the program.
•Shipping - we will ship insured, and if the blocks weight allow, it will be 1st class insured, otherwise Priority flat rate.
•Reservation fees are part of the overall cost of the program and are non-refundable.
•For optional items that you reserve, these will be charged and ship on the first month.
•Finally, should you make a mistake on your block, and if we have the fabrics in stock, we will replace the fabric
at no extra cost to you!
Item Tags: Designer Batiks, Edge Color Applique, Island Batik Quilts