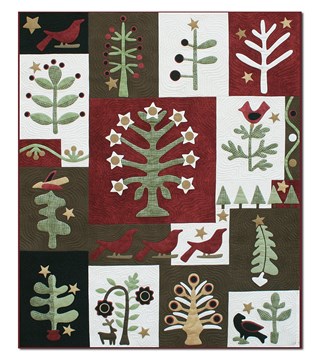 Festival of Trees Silk and Wool Matka Quilt Block of the Month or All at Once
Start Anytime Review
Festival of Trees Silk and Wool Matka Quilt Block of the Month or All at Once
Start Anytime has not been rated yet.
Write a review
Scroll Over Image for Close-up!
Festival of Trees Silk and Wool Matka Quilt Block of the Month or All at Once
Start Anytime
ProductID: ZM-FoTree-Wool
$34.99
Reservation Deposit

This is a wool-lovers dream - all 100% hand dyed wools and hand woven Matka silks - a true heirloom to pass down through the generations!

We are back for the 9th year we've run this Block of the Month - and this 100% Hand Dyed Wool & Silk Matka is a customer favorite! Don't miss this exclusive option from Homespun Hearth!

This is an absolutely gorgeous signature quilt designed  by world renowned quilt historians Brabara Brackman and Karla Menaugh. The designs within each tree block capture the essence of the antique quilts from which they were inspired - 12 appliqued tree blocks plus 6 'Bonus' bird, berries, vines and star blocks - all with a folk art feel. 

The original Festival of Trees pattern is now in the book Juniper & Mistletoe. The book includes additional projects including a make-do, pincushions, a wall hanging and a table runner are included. Finally, the book has tidbits of history, tips, and more from Barbara and Karla. You will NEED the book, so please be sure to indicate here if you need us to send it with your first block (as it is sold separately) of if you already have it.

The finished quilt measures 40" x 48", and the kit includes all the Silk Matka & 100% Hand Dyed Wool in a variety of textures for the quilt top, and silk for binding. Optional textured silk Matka backing fabric is also available.

Block of the Month
This is a 12 month program, and the cost of the program is $44.99 per month plus shipping and the non-refundable reservation deposit. This is an ongoing program, so you can start anytime as long as we have availability.

All at Once - Free US Shipping
We also offer this as an All at Once. The cost of the full kit is $539.88 one week before we ship, plus the reservation fee. US Shipping is free for the All at Once Kits, and International customers receive a 20% shipping discoung on this quilt.

Coordinating Backing
We also have a textured Silk Matka backing fabric for this quilt. The cost is $65.

Fun Facts about our BOM Programs
•Should you be participating in more than one BOM with us, we will combine your orders to save you on shipping costs!
•Also, please note - while we do accept Paypal for the Reservation Deposit, we will need a credit card on file for the duration of the program.
•Shipping - we will ship insured, and if the blocks weight allow, it will be 1st class insured, otherwise Priority flat rate.
•Reservation fees are part of the overall cost of the program and are non-refundable.
•For optional items that you reserve, these will be charged and ship on the first month.
•Finally, should you make a mistake on your block, and if we have the fabrics in stock, we will replace the fabric at no extra cost to you!




Fabric Type: 100% Cotton Quilting Fabric
Item Tags: Quilt Kits, Quilt Fabric, Sunflower Coop, Quilts, Kit, Festival of Trees Quilt Kit, Quilt Kit
More Favorites Related to this Item: