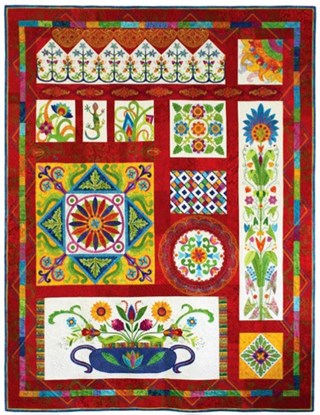 Fiesta Mexico BATIKS! Spectacular Block of the Month
Start Anytime! Review
Fiesta Mexico BATIKS! Spectacular Block of the Month
Start Anytime! has not been rated yet.
Write a review
Scroll Over Image for Close-up!
Fiesta Mexico BATIKS! Spectacular Block of the Month
Start Anytime!
ProductID: ZM-KKB-Batik-100
$27.99
Reservation Deposit
Breathtaking. Legendary. Glorious.
And Now In Batiks.

Just a few words to describe this award winning design and quilt by Karen K Buckley. Now you can make this gorgeous quilt and have a treasured heirloom that will be passed down for countless generations! This quilt measures 76" x 97 1/2 and the kit includes more than 80 different batik fabrics that will mimic the same as the original.  The original quilt was handcrafted with original hand-applique, but it can be completed with the applique method of your choice - see below for tools to help you with your favorite applique method. 
Watch this beautiful slideshow of the Fiesta Mexico Quilt
Loading the player...
This is a 13 month program, and you can join anytime.  The finished quilt  measures 76" x 97 1/2,  and each month you will receive the fabrics and instructions necessary to complete that month's block or section. The cost of this quilt is $33.99 plus shipping per month for 13 months, plus the original $27.99 non-refundable reservation fee. Optional backing fabric is also available.  The pattern packet for Fiesta Mexico contains a beautiful 20 page color booklet with detailed directions and large color photos of each block. Also included are five large fold-out pages with the full sized patterns clearly printed to make them very easy to use. This is a very bright and happy quilt.

For those of you who would like to enhance your hand-applique skills, we have the tools you need that were designed by Karen K. Buckley -- perfect stems, circles, and ovals, plus her special serrated scissors that are ideal for this project. Click here for her Tools and Special Packages we have put together for you.

For those of you who prefer fusible applique, then you may be interested in our full roll of Steam-a-Seam Lite - Click here to view the details.

Additional Fiesta Mexico Fun Add-Ons


We know many of you love the Aurifil Thread, and so we have a contacted Auriful, and they are making another special Thread Pack for us! If you think you might want to topstitch your applique, then you probably would want to consider one of these packs.
To read about this Award Winning Quilt,Click Here
Please note - our Reservation Fees are part of the overall cost of the kit that helps to pay for the initial larger shipments that occur in the first month. Thank you for your understanding.
Notes about our BOM Programs
•Should you be participating in more than one BOM with us, we will combine your orders to save you on shipping costs!
•Also, please note - while we do accept Paypal for the Reservation Deposit, we will need a credit card on file for the duration of the program.
•For optional items that you reserve, these will be charged and ship on the first month.
•Finally, should you make a mistake on your block, and if we have the fabrics in stock, we will replace the fabric
at no extra cost to you!
Item Tags: Birthday Club Signup, Quilt Birthday Club, Club, Clubs, Free Pattern, Free Gift, Free Quilt Patterns
Customers who bought this item also bought: