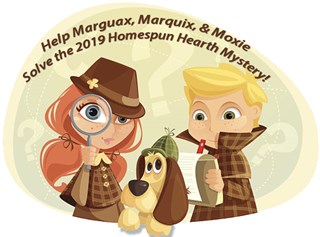 Scroll Over Image for Close-up!
Margaux, Marquix, and Moxie's 2019 Homespun Hearth Monthly Mystery on the Mediterranean!
ProductID: ZM-MMMMystery-2019
By: Homespun Hearth Exclusive Design
$4.49
Reservation Deposit
Join our New Sleuths at Homespun Hearth!
Help Marguax, her brother Marquix, and their ever-so-clever dog Moxie solve the 2019 Homespun Hearth Mystery on the Mediterranean Sea. This trio, of course, are the younger siblings to our very own Agatha and Sherlock, and they are sure to bring you loads of fun through the year!
What we know about the 2019 Mystery so far:
The mystery quilt is perfect for anyone wanting a bit of a change for 2019 - The blocks will be easier to start, and then they will gradually become just a bit more challenging -- so this is the perfect quilt for quilters of all abilities. Plus, the final layout is so exciting - not the typical 3x4 that has become so common (albeit, still beautiful!)
More About the 2019 Mystery Quilt
The finished size of the quilt is a Full Size 79" x 91", and we also know that the quilt is made from beautiful Benartex fabrics.
How it Works
Every month, on or about the 15th of the month throughout 2019, we will auto-ship you the fabric and instructions via download to complete that month's mysterious blocks (yes, sometimes you will be making more than one block each month!). Also,
all borders and binding are included in your monthly price.
Monthly Pricing
The monthly cost is $26.99 - and that includes all US Shipping Costs. Please note that the reservation deposit is non-refundable. Also, if you reserve via Paypal now, we will need to get your CC on file before we begin the program.
Backing Fabric
There is also 108" wide backing available. The cost is $54.17, and that includes US Shipping.
Fun Facts about our BOM Programs
•Should you be participating in more than one BOM with us, we will combine your orders to save you on shipping costs!
•Also, please note - while we do accept Paypal for the Reservation Deposit, we will need a credit card on file for the duration of the program.
•Reservation fees are part of the overall cost of the program and are non-refundable.
•Finally, should you make a mistake on your block, and if we have the fabrics in stock, we will replace the fabric
at no extra cost to you!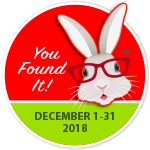 Item Tags: 2019 Monthly Mystery Quilt