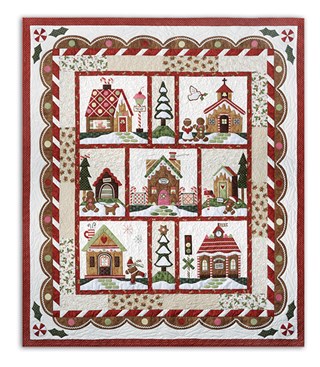 Gingerbread Village Block of the Month or All at Once is Back! Review
Gingerbread Village Block of the Month or All at Once is Back! has not been rated yet.
Write a review
Scroll Over Image for Close-up!
Gingerbread Village Block of the Month or All at Once is Back!
ProductID: ZM-QC-Ginger
$22.99
Reservation Deposit
Gather a group of friends, break out some gingerbread cookies and stitch away on these delightful Gingerbread Village house blocks! For many, the smell of Gingerbread is the epitome of the holiday season, and so this delightful new Christmas Block of the Month designed by Arlene and Melissa from The Quilt Company is absolutely 'Delicious' - you will 'smell' that gingerbread as you make each block.

Each Gingerbread House has its own theme….from the "Sugar 'n Spice Bake Shop", "Gingerbread Train Station" and the "Ginger's Quilt Shoppe" with its spool of thread on the chimney - and we have the special fabric embellishment pack with each of these delights available as well. The Peppermint Stripe Border is a snap to piece and the Scallop border is darling with its Ric Rac "frosting", which is also included. You will love that this pattern has very easy piecing and simple appliqué.

This quilt measures 62" x 72", and the 7 month program and you can join anytime. The kit includes all of the fabric required to complete the quilt as shown (in the exact fabric as shown), including binding. We have also included the Specialty Fabric and Button Pack! Easy-to-follow instructions are also included. Coordinating backing fabric is also available.

Block of the Month
You can elect to have a regular BOM and receive 1 block per month automatically. The cost is $34.98 per month for 7 months plus shipping.

All at Once - Free US Shipping
The All at Once is $244.92 plus the initial deposit and US shipping is free.

Notes about our BOM Programs
•Should you be participating in more than one BOM with us, we will combine your orders to save you on shipping costs!
•Also, please note - while we do accept Paypal for the Reservation Deposit, we will need a credit card on file for the duration of the program.
•Reservation fees are part of the overall cost of the program and are non-refundable.
•For optional items that you reserve, these will be charged and ship on the first month.
•Finally, should you make a mistake on your block, and if we have the fabrics in stock, we will replace the fabric at no extra cost to you!




Item Tags: Applique Quilts, Seasonal Quilts, Bed Quilts, Wall Hanging Quilts,
More Favorites Related to this Item: