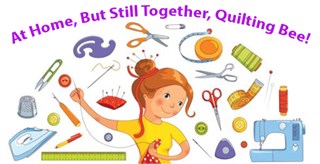 Scroll Over Image for Close-up!
Stay At Home, But Still Together, Quilting Bee
ProductID: ZM-Quilting-Bee
I think it's safe to say that our lives have been impacted and uprooted by the Covid-19 virus. In these trying times, it's important to feel a part of the community, even as we are taking refuge in our homes. I do first want to thank those who are battling this on the front lines - everyone from our medical army to those who are re-stocking shelves and providing our essentials on a daily basis. The list goes on, and to those I give thanks.
I know, depending on where we live, each of us may have different recommendations, policies, and orders in place. For those of you who are at home, please come and join our new "Stay at Home, But Still Together, Quilting Bee! This is something I planned for Fall, but under the circumstances, I've moved it forward so we can enjoy the time and space together.
This Quilting Bee Mystery final reveal will be on May 4th and it will start with the first cutting instructions started on Saturday 3/28. I have several options for you - and you can do what works best for you. Plus, know you can jump on anytime. If you start later in the program, and are not purchasing a kit, I would encourage you to select Option 2 as the $2 patterns will add up quickly. There are 14 patterns in all.
Option #1 - The Full Quilting Bee Treatment
Receive a Kit from me for this Quilting Bee. The Kits include all of the fabric you will need, including binding and all pattern downloads. Optional Backing is also available. These will all ship on Monday and Tuesday, so you will have it in time to start on Friday 3/27. The cost is $199.99, and that includes US Shipping Costs. Our International Customers will receive a 20% Shipping Discount. Wondering about the kit fabric? Just know that while the fabric is a mystery, it will be perfect for summer fun.
Option #2 - The No-Worry Quilting Bee
With this option, you will automatically receive all of the pattern downloads as soon as they become available. They will be automatically added to your account, so you will not have to worry about getting them when they are 'live'. You've got the stash - as local shops may be closed. The cost is $18.99, and I encourage this version if you are not able to select Option #1. After the Quilting Bee event, the pattern will be $24.99
Option #3 - The Catch 'em Quick Option
With this option, you will only be able to download the pattern for free the first day it is available. Please note, there will be no reminders, and after the first day it is offered, the cost for the individual pattern will be $2.00. At the end of the event, the pattern will be $24.99 While this option is Free, please do not ask for the pattern if you forget or are not able to download the pattern, as this would not be fair to those who are in Option #1 or Option #2. I understand that Option #1 or #2 may not be something that can work for you, and I don't want anyone left out. Again, you've got the stash, as local shops may be closed.
About the Quilt
This is a fun design, a sampler, a mystery, and I think you will be really pleased - it has a little bit of everything - from traditional piecing, to a little bit of applique (method of your choice), to a little bit of paper piecing. This is for the advanced beginner/intermediate quilter, and still your horizons will expand.
The quilt measures 68 x 73" - a perfect over-sized lap or twin quilt. For those of you doing Option #2 or Option #3, you will get the fabric requirements on Thursday 3/26 - these will be automatically downloaded into your account.
a Rafflecopter giveaway
Item Tags: Quilting Studio, Sewing Chairs, Arrow Cabinets, Sewing Room Furniture, Sewing Chair
More Favorites Related to this Item:
Customers who bought this item also bought: