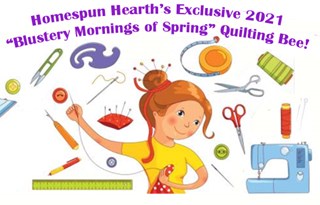 Blustery Mornings of Spring Quilting Bee Review
Blustery Mornings of Spring Quilting Bee has not been rated yet.
Write a review
Scroll Over Image for Close-up!
Blustery Mornings of Spring Quilting Bee
ProductID: ZM-Quilting-Bee-Apr-2021
This past year has totally changed the way many of us are living our lives -- and those of us who quilt are certainly lucky to have something we love right at our fingertips - wouldn't you agree? While the future is looking brighter, and indicates that it won't be too long until we are back to our normal busy lives, right now there are still many of us who are able to spend time doing what we love!
About the Quilt
The completed quilt measures 78" x 87" - and I will tell you that I'm in LOVE with this design! This is a perfect twin or full size quilt -- but I do have to say, this is not for the beginner quilter. While I generally do try and provide a quilt that benefits all skill levels, I recommend that for this Quilting Bee that you are an intermediate quilter... and even then, your horizons will expand. This quilt includes traditional piecing, as well as some paper piecing and just a little bit of applique (method of your choice).
Once you've finalized your order, there will be a Welcome Letter in your account. Also, an initial set of cutting instructions will be released into everyone's account on Tuesday, March 30.
This Quilting Bee Mystery will begin on Thursday April 1st, 2021 and the final reveal will be on the April 30th. The design features 3 -- yes 3 different, coordinating panels. This Quilting Bee also includes instructions for optional pillows or a table runner to coordinate with your quilt.
Option #1 - The Full Quilting Bee Treatment
Receive a Kit from me for this Quilting Bee. The Kits include all of the fabric that you will need, including binding, panels and all pattern downloads. Fabric for the optional pillows or runner is also included, as well as the pre-print papers needed for the paper pieced blocks, and also a Tri Recs Ruler. The cost is $311.15 (this will increase to $369.66 after the quilting bee) and US Shipping is Free and these will ship the week of 3/22. (International Customers receive a 20% shipping discount). Coordinating backing is also available.
Option #2 - The Pattern Quilting Bee
All instructions will be will be automatically added to your account, so you will not have to worry about getting them when they are 'live'. The cost for this verion is $18.99, and I encourage this option if you are not able to select Option #1, you have a good stash, and you have some panels that you would like to work into a quilt. After the Quilting Bee event, this pattern price will increase to $24.99
Option #3 - The Catch 'em Quick Option
With this option, you will only be able to download the pattern for free the first day it is available, and it is a 9 hour window. Please note, there will be no reminders, and after the first day it is offered, the cost for the individual pattern will be $2.00. At the end of the event, the pattern will be $24.99 While this option is Free, please do not ask for the pattern if you forget or are not able to download the pattern, as this would not be fair to those who are in Option #1 or Option #2. I understand that Option #1 or #2 may not be something that can work for you, and I don't want anyone left out. PLEASE NOTE - LAST DAY TO ORDER $2 PATTERNS IS 4/30/2021.
NEW - OPTION #4 - PANELS, PAPERS & PATTERN
Many have asked if they can purchase just the panels that will be used in this quilt. I wasn't sure what I would have remaining, but now I know my numbers. This is a specialty pack that includes the Panels, the Papers, and the Pattern set - totals $61.07 (includes shipping cost). With this option, you will receive the Panel set and papers in the mail, and the patterns will be automatically downloaded into your account. If you want this, please do not delay as supplies are limited!
NOTE -- YOU WILL ALSO NEED ...
To complete this design, you will also need the Tri Recs Ruler. This is actually included in the Option #1 Kits, but if you don't have one yet,
Click Here to Purchase
Just a side note -- I've had customers ask why I charge for these patterns and why they can't be free for the entire month. As you might imagine, I put a LOT of time into the designs - sometimes it takes me days just to get the layout right and balanced. Writing the instructions is also very time consuming, and while I love this part of Homespun Hearth's Favorites, it takes me away from other things that also need to be accomplished. So, yes, I'm afraid I can't be all free all of the time. However, most of our Agatha mysteries are free, so be sure to sign up for those - I love having you there. :)
Currently Released Blocks
The blocks will be released throughout the month of April. On the day of release, the design will be free from noon until 9pm Mountain time, and then cost is $2 per pattern release.
Once the program beginsClick Here to See All of the Blocks that have been released thus far.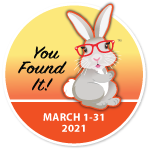 Item Tags: Quilting Studio, Sewing Chairs, Arrow Cabinets, Sewing Room Furniture, Sewing Chair
Customers who bought this item also bought: