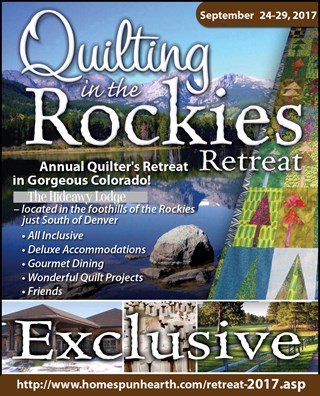 2017 Quilting in the Rockies Retreat Review
2017 Quilting in the Rockies Retreat has not been rated yet.
Write a review
Scroll Over Image for Close-up!
2017 Quilting in the Rockies Retreat
ProductID: ZM-Retreat-17
CLICK HERE FOR COMPLETE MYSTERY RETREAT DETAILS
Dates  - September 24-29, 2017
This year we offer 2 Payment types.  The deadline for final complete payment is Jul 15, 2017.
#1 - Payment Plan Pro-rated:
Non-Refundable Reservation Fee - $300. January 15 - July 15, we will take equal payments of $122.07 (includes tax) from your account (NO Paypal orders). Each payment is non-refundable.
Should there be any reservations after Jan 15, we will take the number of months from the date of sign up until July, and divide by amount due for an equal amount. Payments will be automatically run through around the 15th of each month.
#2 - All at Once Plan
If you prefer, you can pay a $450 deposit at the time of your reservation, and then the final balance will be due on or before Jul 15, 2015.
Total Retreat Cost (including deposit)
Per Person - $1079
Per Person with Non-Quilting Lodger - $1700 - ($250 deposit for extra person)
Per Communter - $710.50

Please contact Teresa at 719-481-0197 or home@homespunhearth.com if you have any additional requests. 
There are no refunds for the deposit, incremental payments, or final payments made on July 15. Thank you for understanding. You may transfer your reservation. Please contact us.
Item Tags: Exclusive Clubs, Homespun Hearth, Quilt Retreat, 2015 Quilting in the Rockies Retreat
Customers who bought this item also bought: