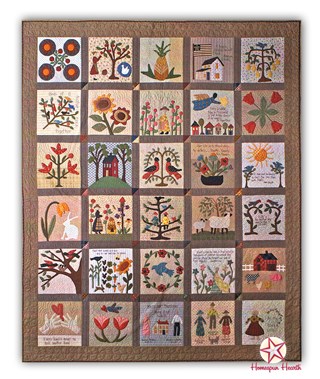 Sweet & Simple Wool -or- Cotton
Applique Block of the Month or All at Once Review
Sweet & Simple Wool -or- Cotton
Applique Block of the Month or All at Once has not been rated yet.
Write a review
Scroll Over Image for Close-up!
Sweet & Simple Wool -or- Cotton
Applique Block of the Month or All at Once
ProductID: ZM-TT-SS10027
$9.99
Reservation Deposit
This sweet quilt is inspired by Spring and the new growth that sprouts each year. The tender sweet peas and salad greens, the birds busy gathering nesting materials, and the crocus peeking through the warming soil promising new life. This is a quilt where you can also have a bit of creative license - to represent some of the important things in your life, creating a personalized heirloom. Plus, with sweet sayings such as "Faith is the bird that sings when the dawn is dark" and "Every hand is meant to hold another hand" this quilt will delight the soul.

Measuring 76" x 90", this is offered as a Block of the Month or an All at Once, in either a Wool Applique on Silk Makta Background version or Cotton Applique on Cotton Background Version. Both versions will have similar coloring to the original quilt, and the brown floss for the embroidered sayings is also included in the kits.

You will also need the Sweet and Simple Pattern Booklet by Norma Whaley to complete this design, which is available here for $33.99.

Block of the Month
This is a 15 month Block of the Month, scheduled to begin in January, and each month you will receive the fabrics for 2 blocks. Costs are as follows plus the shipping costs and the non-refundable reservation fee:
Cotton Applique: $34.99 per month
Wool on Silk Applique: 74.99 per month
The Block of the Month also includes the finishing kit (sent on the 15th month). Backing and threads are optional.

All at Once
The All at Once, shipping in January, are charged one week before we ship, and are as follows:
Cotton Applique - $524.85
Wool on Silk Applique - $1124.85
All at Once kits receive FREE US Shipping, and our International Customers receive a 20% Shipping Discount

Coordinating Backing
We have coordinating backing available. The costs are as follows: Cotton Backing - $65.99
Silk Matka Backing - $219.99

Thread Pack
We recommend silk thread for your wool & cotton applique project. This quilt will have many colors, so we are offering the complete Kimono 80 spool silk pack for $429.99, a savings of $50 over the regular $479.99 price.

Item Tags: Applique Quilt Kits