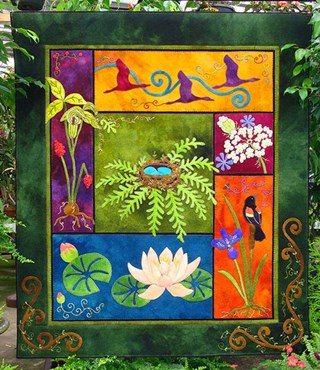 Scroll Over Image for Close-up!
The Nature of Things - Wool Applique Quilt Kit
ProductID: ZM-WLNature
By: WoolyLady
$26.99
Reservation Deposit
This staggeringly beautiful wool applique quilt will liven up any room in your home. The delicate Queen Anne's lace with lavender blue chicory, wild purple iris with fuzzy brown cattails, pale peach water lilies, spring green maidenhair ferns and the hidden bird's nest  are some of our favorites; fittingly "The Nature of Things."


Watch this beautiful slideshow of the Nature of Things Wool Applique Quilt


Loading the player...
The completed quilt measures 40" x 46". Each month's kit includes a full page, full-color photo and full-size templates and all of the 100% hand-dyed wool required to complete the block, including the borders
and full size, 100% wool backing
fabric.  The cost of the program is $79.99 per month for 7 months, plus a $26.99 non-refundable reservation fee that is part of the overall cost of the kit, and actual shipping costs will apply.  This is a 7 Month BOM Program - each month's kits will ship the middle of each month - you can join anytime as long as we have availability.  
You may also select the All at Once version - this is $559.93 one week before we ship the kit, plus the $26.99 reservation fee -- Free US Shipping with this option.
This kit can be appliqued by hand or machine blanket stitched.  There is also hand embroidery embellishments for both applique options.  We have the following thread packs available for both options, and will be charged/shipped with the first month:
Optional Hand Thread Kit ($172)
12 Tentakulum Skeins
20 skeins Weeks Dye Works Pearl 5
Optional Machine Thread Kit: ($88)
2 Spools Aurfil Lana Thread
20 skeins Weeks Dye Works Pearl 5
About Tentakulum Wool Crewel Thread:  100% worsted lambs wool thread, lovely for applique.  Hand painted in Germany, it coordinates perfectly with "The Nature of Things" wool kit.  Each skein is 27 yards.
About Weeks Dye Works Pearl 5: 100% hand over-dyed cotton. Perfect embellishment thread and size for wool applique projects.  Each skein is 10 yards
About Aurifil Lana Wool Thread:   50% Acrylic Fibers and 50% Wool, making it strong enough for high-speed machines and excellent for folk art appliqué. Each Spool 383 yards
Item Tags: Halloween Designs, Complete Quilt Kits, Block of the Month, BOM
More Favorites Related to this Item: