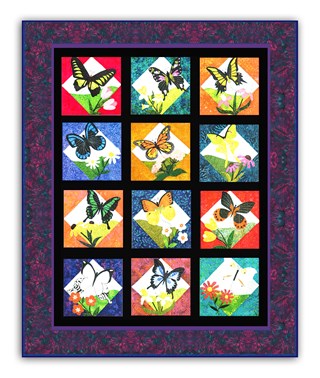 In Flight Bright BATIK Block of the Month or All at Once Kit
Start Anytime! Review
In Flight Bright BATIK Block of the Month or All at Once Kit
Start Anytime! has not been rated yet.
Write a review
Scroll Over Image for Close-up!
In Flight Bright BATIK Block of the Month or All at Once Kit
Start Anytime!
ProductID: ZM-ZE-IF-Batik
By: Debra Gabel
$7.99
Reservation Deposit
Join us for an In Flight tour of the most beautiful butterflies in the world! From the Monarch to White Angel, the colors of these butterflies in bright batiks will make them seem like they are sitting right on your quilt. With this quilt, you can use the applique technique of your choice, to include a blanket stitch, satin stitch or raw edge.

In Flight Quilt
This finished quilt measures 64" x 70", and the kit includes all of the batik fabric required to complete the quilt top including binding. The comprehensive easy-to-follow pattern, along with full sized templates and binding is also included.

Block of the Month
This is a 12 month Block of the Month. The cost of the BOM is $27.99 per month plus shipping and the initial reservation deposit. Each month for 12 months you will receive the pattern and fabric for that month's block. On the final month, you will also receive the sashing, border and binding fabrics.

All at Once - Free US Shipping
We also offer this as an All at Once. The cost of the All at Once is $335.88 one week before we ship, plus the initial reservation deposit. US Shipping is free with this All at Once Kit, and our International friends receive a 20% shipping discount.

Optional Swarovski Hot-Fix Crystal Set
Add some extra beauty to this quilt with the optional In Flight Swarovski Hot-Fix Crystals. We've put together a pack of 600 cyrstals, a total of 20 colors, for just $54.

Optional Backing
We also offer optional backing. The cost is $48 and will ship with the 1st month.



Notes about our BOM Programs
•Should you be participating in more than one BOM with us, we will combine your orders to save you on shipping costs!
•Also, please note - while we do accept Paypal for the Reservation Deposit, we will need a credit card on file for the duration of the program.
•For optional items that you reserve, these will be charged and ship on the first month.
•BOM Reservations deposits are part of the overall cost of the program, and are not refundable. We ask that you please do not cancel out of a program once it's begun - all kits cut for you at the start of the program.
•At any time during the BOM that you would like to receive the remaining blocks, just contact us and we with gather and ship them to you.
•Finally, should you make a mistake on your block, and if we have the fabrics in stock, we will replace the fabric at no extra cost to you!




Item Tags: Christian Quilt, Bible Quilts, Batik Religious Quilt
Customers who bought this item also bought: