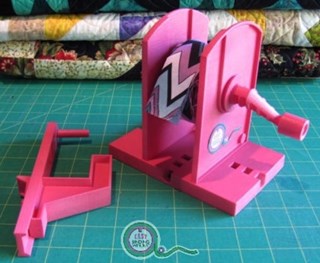 Easy Binding Winder Review
Easy Binding Winder has not been rated yet.
Write a review
Scroll Over Image for Close-up!
Easy Binding Winder
ProductID: ZN-EBWinder

The Easy Binding Winder is just what the name says - a patent pending gadget designed to efficiently wind quilt binding as it's being made. When the binding is complete, or as you are ironing the binding, it's wound into a neat & tidy little roll that can be stored or immediately applied to a quilt. It requires no batteries or electricity. Includes a clamp to hold the unit onto your ironing board or sewing machine. Design considers so many physical limitations - especially hands that are arthritic or strength impaired.

Purchase includes one Easy Binding Winder and one spool. Additional Spool 2-packs also available here.

Watch this video to see how valuable this quilter's tool can be - it's like another set of hands!


Item Tags: Quilt Design Tools
More Favorites Related to this Item:
Customers who bought this item also bought: