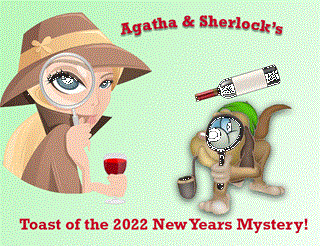 Agatha & Sherlock's Toast of the 2022 New Year's Mystery Weekender Event! Review
Agatha & Sherlock's Toast of the 2022 New Year's Mystery Weekender Event! has not been rated yet.
Write a review
Scroll Over Image for Close-up!
Agatha & Sherlock's Toast of the 2022 New Year's Mystery Weekender Event!
ProductID: ZPD-Agatha-NewYear-2022
Reservation
Join Agatha & Sherlock on a New Years Weekend-Long Mystery! Beginning on Saturday January 1st, 2022 and progressing until Monday, January 3, you will be able to help us solve the Toast of the New Year Quilt Mystery! For all the participants, we will also have drawings and other fun things going on, too.

While our 1 day mysteries are free, this event does have a $10 reservation fee, which covers all of the patterns that will be released throughout the 3 day weekend. This design has some elements that may be a bit more challenging, so I would rate this for a very advanced beginner or an intermediate quilter. The finished quilt measures 66" x 72', so it is a really nice lap size quilt (although, you may want to hang this one!), and the quilt will have a variety of techniques for you to sharpen your skills.

The fabric requirements will be released on December 15, 2021, and the cutting instructions will be released on December 28, 2021. As with all of our mysteries, all information for the quilt will be automatically downloaded into your account as it becomes available - be sure to mark your calendars and set your phone alarms for those dates (I will, of course, send out a reminder email, but I know those sometimes are lost or overlooked).

Of course, this quilt is designed around a very specific and beautiful fabric collection. Right now I have quilt kits available, and I would suggest you grab one - especially if you are a wine aficionado! This is the perfect fabric collection for this design - you will be getting all of the regular fabrics, plus a surprise fabric, too! The kits will all ship on December 8, 2021, and the price includes shipping costs. Coordinating backing is also available.

Also, as a side note, there are panels in this quilt design. The panels measure approx 1 @ 16 1/2" x 24 1/2" and 4 @ 12 1/2" x 15 1/2". We hope you'll join us while we solve this Toast the New Year Weekend Mystery!
Fabric Type: 100% Cotton Quilting Fabric
Item Tags: Quilt Mystery, Kit of the Month, Exclusive Clubs, Quilt Kits