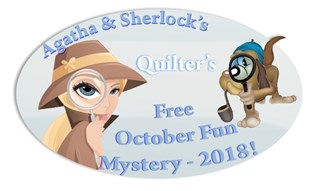 Agatha & Sherlocks Free October Fun 2018 Mystery Review
Agatha & Sherlocks Free October Fun 2018 Mystery has not been rated yet.
Write a review
Scroll Over Image for Close-up!
Agatha & Sherlocks Free October Fun 2018 Mystery
ProductID: ZPD-October-Fun-2018
One Day Mystery
It my seem early ... but it's not! This year we are squeezing in an Agatha Mystery - between the craziness of summer and the insanity of the holidays! What better way to have some down time then to do some quilting just as the weather is turning.

This year, be sure to join us on Saturday October 13 -- to solve the October Fun Agatha & Sherlock Quilt Mystery!. This is a one-day, FREE, Mystery, and we think you will have a lot of fun with this design.

The Mystery begins at 9:00 Eastern time on Saturday, October 13, and clues will be released (into your account for immediate download) throughout the day until we have solved the mystery.

OPTIONAL KITS -SOLD OUT!
We are excited to offer the PERFECT KIT for this mystery. We have to size options: the regular generous lap size option (65" x 76") or you can add a wider border to make a larger twin-size quilt (75" x 86"). You also have the option for a white or black background - both look awesome with this design!

Lap size costs $91.63 and the Twin size costs $106.90 - and these costs include US Shipping. Optional Coordinating backing is also available. The pre-paid kits will ship out on October 2nd.

To get started, simply add this item to your cart and check out - the download with the fabric requirements and first-step cutting instructions will be available for you in your account as soon as you process your order.


Fabric Type: 100% Cotton Quilting Fabric
Item Tags: Mystery Kits, Agatha and Sherlocks Mystery, Kit of the Month, Exclusive Clubs, Quilt Kits
Customers who bought this item also bought: