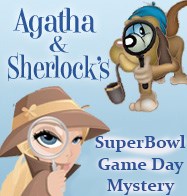 Scroll Over Image for Close-up!
Agatha & Sherlock's 2017 Superbowl Mystery Down NRG Lane!
ProductID: ZPD-Superbowl-2017
By: Homespun Hearth Exclusive Design
per kit
Are you a Football Widow? Perhaps you love to quilt while you watch the game? Well, join us for a fun time on Super Bowl Sunday, February 5!

First, register here, and check out (no cost). Once your registration is finalized, you will find the fabric requirements and cutting instructions so that you can get prepared for game day mystery.

Don't want the hassle of choosing fabrics? We have some awesome mystery kits to add to the fun! Just $79 and that includes binding.

Then, starting at 9:00 Eastern on Superbowl Sunday, we will begin to release clues for you, every hour until the mystery is complete!

Be sure to tell your quilt friends, guild and forums -- the more who participate, the more fun it is! If you tell your friends, let us know! We will have a special drawing on Superbowl Sunday for those who told a friend - the winner will get a $50 shopping spree at Homespun Hearth!
Item Tags: Agatha & Sherlock Quilt Mystery for Superbowl 2017
More Favorites Related to this Item: