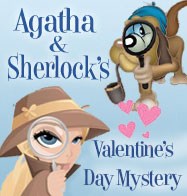 Scroll Over Image for Close-up!
Agatha & Sherlocks Valentine's Day Mystery 2015
ProductID: ZPD-Valentines-2015
$7.20
$9.00
One Day Mystery
Click Here for More Mystery Information
Join Agatha and Sherlock today as they prepare to find, cut, piece and sew together this new 2015 Valentines Day Mystery!
Add to your cart, check out GO TO YOUR ACCOUNT TO GET THE CLUES!
Fabric Type: 100% Cotton Quilting Fabric
Item Tags: Mystery Kits, Agatha and Sherlocks Mystery, Kit of the Month, Exclusive Clubs, Quilt Kits, Homespun Hearth Special, Mystery, Lovinas Pressed Flowers Book
Customers who bought this item also bought: