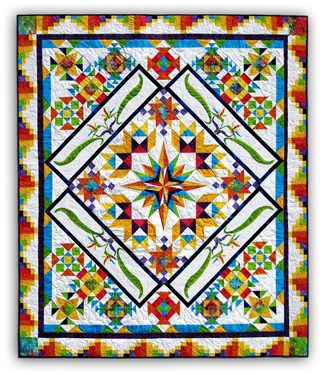 Colorful Tropics Batik BACKING Review
Colorful Tropics Batik BACKING has not been rated yet.
Write a review
Scroll Over Image for Close-up!
Colorful Tropics Batik BACKING
ProductID: zmx-bjb100-BACKING
$64.91
Reservation Deposit
Colorful Tropics is a striking, very Hawaiian looking quilt that features bright and beautiful batiks. Designed by Barbara Bieraugal, straight from Hawaii, the finished quilt measures 76" x 89". Her extra-detailed instructions for a variety of techniques also includes an option to piece rather than applique if that is preferred, and you can applique in the method of your choice. Be sure to scroll over the image to see the exquisite detail.

Featuring gorgeous Island Batik fabrics, the kits include all of the fabrics required to complete the quilt top, including binding and the instructions. The fabrics are similar, and some are the same as used on the original. This is an 11 month Block of the Month program.

Block of the Month
This is an 11 month program scheduled to begin in January. Every month you will automatically be shipped the fabric for that month's blocks and the final month will include any outer border and binding fabric. The cost of the Block of the Month is $27.99 per month plus shipping and the initial reservation deposit, which is part of the overall cost of the kit.

All at Once
We also offer this as an All at Once, also shipping in January. The cost of the All at Once is $329.89 and US Shipping is Free. Our International customer receive a 20% shipping discount. All at Once Kits will ship 7-10 days after the payment is processed.

Coordinating Backing
We also have coordinating Backing available. The cost of the backing is $64.91 for 5.75 yards, and will ship with the first month.


Item Tags: Hawaiian Quilt Block of the Month
*Please Note
-
Layaway available on this item
More Favorites Related to this Item: