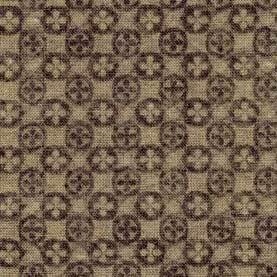 Pumpkins and Spice Dark Gray Review
Pumpkins and Spice Dark Gray has not been rated yet.
Write a review
Scroll Over Image for Close-up!
Pumpkins and Spice Dark Gray
ProductID: ZF-PAS1934-dkgry1
By: Whimsicals Quilts ~ Terri Degenkolb
Whimsicals' distinctive style shines in this newest collection! The harvest theme carries through beautifully from the collage-style panel to the gourd-vine stripe to the tossed sunflower print. Soft yet rich colors of sage green, slate gray, mushroom brown and amber gold combine to produce a gentle patina to every pattern. A lovely, light birch neutral provides the perfect background color throughout the group. A delightful medium-scale print features primitive kitties, gourds and pumpkins along with playful sunflowers. Two tonal geometric prints – a small diamond and tiny floral – work beautifully to add a bit of soft structure. A delicate ticking stripe is just charming while a diminutive tossed wheat print adds a bit of movement. Finally, a tiny dot texture is a highly usable print with great color and loads of personality! These patterns and soft colors lend themselves perfectly not only to quilts but to kitchen décor, easy garments and more!

Fabric Type: 100% Cotton Quilting Fabric
Item Tags: Whimsicals Quilt Fabrics, Quilting Fabrics, Red Rooster Quilt Fabric, Quilting, Fat Quarters