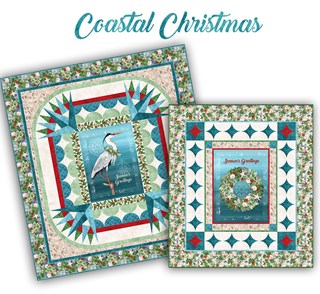 Pre-Order & Save $45.30! Coastal Christmas Combo Quilt Kit Review
Pre-Order & Save $45.30! Coastal Christmas Combo Quilt Kit has not been rated yet.
Write a review
Scroll Over Image for Close-up!
Pre-Order & Save $45.30! Coastal Christmas Combo Quilt Kit
ProductID: ZK-Coastal-Xmas-Duo
By: Homespun Hearth Exclusive Design
$256.74
Per Kit Set PreOrder
SORRY -PRE-ORDERS SOLD OUT
Pre-Order This Combo Now and Save $45.30 - that's a 15% savings over the regular price! Regular Price of $302.04 will begin June 1, 2020. These will ship in June, but don't delay ordering, or you may miss out! Plus see below for Layaway information.
What do you get when you mix Summer and Winter? You get a Coastal Christmas! This is a stunning and Homespun Hearth Exclusive duet of quilts, featuring the Coastal Christmas Fabric Collection By Lynnea Washburn for Northcott Fabric. From a Holly adorned Heron to a Seashell filled Wreath, both of these quilts are actually far easier to put together than you would think!
About the Kits
The mighty Heron features a Quarter-Compass Paper-pieced corners, pulling from the compass that is in the background of the Panel. The setting really pulls out and accentuates this stunning artwork. This quilt measures 72" x 79".
The beautiful wreath has some of the same design elements as the Heron, and you can really smell the beachy atmosphere where this wreath belongs. The quilt measures 55" x 62".
Be sure to scroll over the image to get a close-up picture of the elements on these quilts!
The quilt kits include all of the fabric required to complete the quilt tops as shown (and you are able to swap the wreath and crane into the opposite quilt if you like), as well as easy-to-follow instructions, paper-piecing templates, and binding. Also, for the Combo,
US Shipping is Free
, and our International customers receive a 20% Shipping Discount!
Optional Backing
We also have optional Coordinating backing for these quilts. The total cost of backing
for both kits
is $124.06 this price will not change in June, however there will be limited supply, so be sure to get it if you want it!
Swarovski Coastal Christmas Pack
Nothing says Christmas like a bit of sparkle! We have put together and exclusive Coastal Christmas Swarovski Pack -- this is a total of 1500 Hot-fix Crystals for $135!
Layaway Available!
As noted below, this item is also available for Layaway, so if you want to spread out the cost over 3 payments (today, 30 & 60 days from now), then be sure to click the Layaway box in your shopping cart!
a Rafflecopter giveaway
Fabric Type: Batik Quilting Fabric
Item Tags: Christmas Quilt Kits, Coastal Panel Quilts
*Please Note
-
Layaway available on this item
More Favorites Related to this Item: