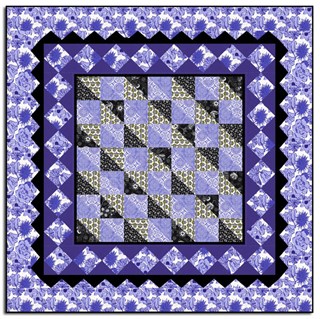 Periwinkle Charm Quilt Kit Review
Periwinkle Charm Quilt Kit has not been rated yet.
Write a review
Scroll Over Image for Close-up!
Periwinkle Charm Quilt Kit
ProductID: ZK-HSH-BT75-2
By: Homespun Hearth Exclusive Design
$81.97
$86.28
per quilt kit
A Favorite design with freshened up fabrics! This Homespun Hearth Exclusive design is a sweet layout using half square charms and prairie points to accentuate the gorgeous periwinkle fabrics with diamonds and half square triangles.

The quilt measures 64" sqaure - perfect for a lap quilt or to toss over the back of a couch or the end of a bed. The kit includes the fabric required to complete the quilt top as shown, including binding and easy-to-follow instructions.
Coordinating backing fabric also available.
Fabric Type: 100% Cotton Quilting Fabric
Item Tags: Wall Hanging Quilts, Teresas Treasures, Quilt Kits, Homespun Hearth Special, Quilts, Kit, Free Gift
*Please Note
-
Layaway available on this item