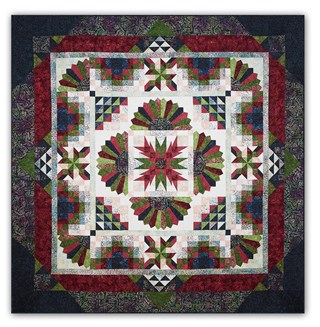 Tonga Lush Batik King Sized Quilt Kit Review
Tonga Lush Batik King Sized Quilt Kit has not been rated yet.
Write a review
Scroll Over Image for Close-up!
Tonga Lush Batik King Sized Quilt Kit
ProductID: ZK-WP-Lush-ALL
The Tonga Lush collection features fourteen fabrics in a palette of creams shading to soft blush, rose into burgundy, and vivid greens all nested in a navy-blue base. The Lush quilt, 108" square, was designed to showcase this beautiful collection. Be sure to scroll over the image so you can see the gorgeous detail in these fabrics!

The Dresden blocks in this quilt are made with curved pieced handles and finished points for simple appliqué by machine or hand. The blooming center block points are easily made with Creative Grids ruler (sold separate) or the paper templates included with the pattern. Throughout the quilt the classically pieced blocks are enhanced by unique color placement.

Basic piecing techniques with easy-to-follow instructions, combined with a variety of block sizes make this quilt desirable for both the novice and savvy quilter alike.

This is a King sized quilt, measuring 108" square, and the kits include all of the fabric required to complete the quilt top as shown in the original sample, including binding and the pattern.

Creative Grids 2 Peaks in 1 Ruler
The Multi-Size 2 Peaks in 1 Triangle ruler combines the angles you need to create triangle in a square blocks which requires a two to one ratio. This ruler is used in this quilt, however paper templates are also provided.

Backing
Coordinating Backing fabric is also availableh.


Item Tags: Wing and a Prayer Batik Quilt Kits, Queen Sized Batik Quilt Block of the Month
*Please Note
-
Layaway available on this item