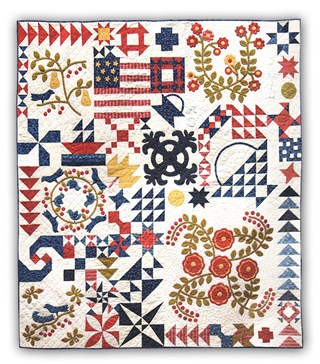 Austin Blue Bird Quilt Kit Review
Austin Blue Bird Quilt Kit has not been rated yet.
Write a review
Scroll Over Image for Close-up!
Austin Blue Bird Quilt Kit
ProductID: ZM-ABB100
By: Minick & Simpson

Based off a 19th Century Sampler Quilt, this civil war era quilt features pieced and applique blocks by Minick and Simpson. The Austin Bluebird Sampler is a crisp, vibrant grouping of Minick & Simpson fabrics. This is such a charming reproduction with 2 birds on a branch surrounded by rose buds, flowers, cherries and pears. The happy bluebirds are surrounded by pieced blocks in the style of the original 19th century sampler quilt.

The finished quilt measures 75"x 84", and the kit includes all of the exact fabrics as shown in their original quilt as well as the complete pattern pack, and binding - more than 19 yards of fabric in all!

We have several options for you - you can elect to join as a regular 12 month Block of the month, or, if you prefer you may sign up for the 6 month 'Accelerated BOM' where you will receive 2 blocks per month, and finally you have the option to purchase the entire quilt at one time.

Optional Backing Coordinating Backign is also available here.
Optional Aurifil Thread Pack - specifically designed for the Austin Blue Bird Sampler. This pack includes 6 spools of 12 weight for your applique, and 6 spools of 50 wt for your piecing.
Item Tags: Birthday Club Signup, Quilt Birthday Club, Club, Clubs, Americana Quilt Kits, Block of the Month
*Please Note
-
Layaway available on this item
More Favorites Related to this Item: