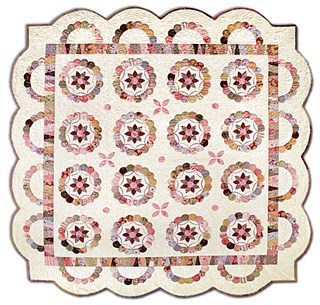 Scroll Over Image for Close-up!
It Takes Two Quilt ... Take Four!
BOM or All At Once - Start Anytime!
ProductID: ZM-BFP100-3
By: Sue Daley
$36.00
Reservation Deposit
At Homespun Hearth we are so excited to yet again bring back one of the favorite English Paper Piecing Block of the Month Quilts by Sue Daley! No longer the arduous and time consuming art of the 18th century, Sue's English Paper Piecing techniques save you 90% of the time and you get 100% of the beauty!
We use a gorgeous selection of fabrics from your favorites, to include Moda, Lecein, Wyndham and more!  Measuring 60" x 60", and includes both English Paper piecing and Needle Turn Applique featured in this beautiful quilt. 

The kit includes all of the fabrics required to complete the quilt top, including binding, background, all of the pre-cut paper pieces and perspex templates for rotary cutting your fabric.  We will also provide a step-by-step guide for the 21st century method.
The cost of the 8 month BOM program is $39 plus shipping costs per month, plus the $36 non-refundable Reservation Deposit, which is part of the overall cost of the kit.
If you would like to purchase the kit all at once, the cost is $312 plus the $36 non-refundable Reservation Deposit. The kit will arrive to you broken down into 8 easy BOM sections, but you will receive everything at once!  
Coordinating Backing is also available.
Fabric Type: 100% Cotton Quilting Fabric
Item Tags: Art Quilts, Block of the Month, Quilt Kits, Quilt Fabric, Sue Daley, English Paper Pieced Quilts, Fabric, Kit, English Paper Piecing, Lecien Quilt Kit, Quilting Fabric
Customers who bought this item also bought: