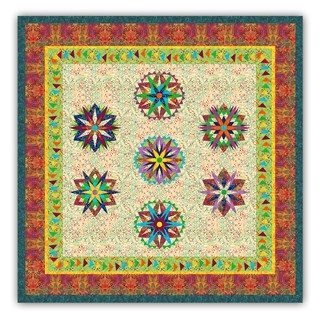 New! Exclusive "Island Stars Sampler"
a Judy Niemeyer Block of the Month
Start Anytime! Review
New! Exclusive "Island Stars Sampler"
a Judy Niemeyer Block of the Month
Start Anytime! has not been rated yet.
Write a review
Scroll Over Image for Close-up!
New! Exclusive "Island Stars Sampler"
a Judy Niemeyer Block of the Month
Start Anytime!
ProductID: ZM-JNQ-BOM
By: Judy Niemeyer
$16.99
Reservation Deposit
SPECTACU⁸LAR! - Be sure to scroll over the image so you get a MUCH better idea of how GORGEOUS this quilt is!
Or, click Here to see a much closer image!
Calling all Judy Neimeyer Groupies or wannabe Groupies! Now you can sharpen your paper piecing skills with this Exclusive Island Stars Sampler, and a
a Sister Quilt of the Island Life BOM!
This stunning Block of the Month, by Judy Neimeyer of Quiltworx, features the new Dragonfly Spell fabrics from Batik Textiles and the Candy Coated Snowflakes pattern from Judy. Stunning and vibrant colors are the perfect match for this gorgeous design.
The finished quilt is a King Size 108" x 108" square, and the design is from the Candy Coated Snowflakes Block of the Month. This is a 9 month program, or you can opt to purchase the kit All at Once.
CANDY COATED SNOWFLAKES PATTERN - REQUIRED
You will need Candy Coated Snowflakes pattern to make this Block of the Month. We offer this separately in the event that you might already have the pattern, so you can just select the fabric pack. $72 for the complete pattern set, including all papers. The pattern will ship with each month's blocks.
BLOCK OF THE MONTH
This is only a 9 month Block of the Month program and the cost is $39.99 per month plus shipping and the initial reservation deposit. The kits include all of the fabric required to complete each month's design, as well as the background, inner and outer borders. We also cut and label the first strip cuts in each pack. Binding is also included in the final month. If you need the pattern, please reserve it here.
ALL AT ONCE - FREE US SHIPPING
We also have this as an ALL AT ONCE. The cost is $359.91 plus the initial reservation deposit. As an added bonus, the All at Once kits are sent to you BOM style (individually packed as in the BOM) for your convenience, but the entire kit ships at one time. US Shipping is Free, and our International Customers receive a 20% shipping discount.
COORDINATING BACKING
We also have Coordinating Backing Available, while supplies last. $109 and this will ship with your first month.
SWAROVSKI ISLAND STARS CRYSTAL PACK
I've also put together a gorgeous pack of Swarovski Crystals to match the colors in this quilt! There are 2400 crystals in all, for just $216!
HOMESPUN HEARTH EXCLUSIVE JUDY NEIMEYER START PACK
We also have a HSH Judy Neimeyer Starter Pack available that you may find useful. This is a collection that I've put together with some of the items that you will likely need to make this, as well as any other Quiltworx pattern; pack includes a 6" and 12" long add-a-ruler, fabric/paper glue, fabric/fabric glue with a refill, and a 12" x 12" template plastic. $37
Fun Facts about our BOM Programs
•Should you be participating in more than one BOM with us, we will combine your orders to save you on shipping costs!
•Also, please note - while we do accept Paypal for the Reservation Deposit, we will need a credit card on file for the duration of the program. So, we encourage to sign up with your credit card to expedite your first month!
•Shipping - we will ship insured, and if the blocks weight allow, it will be 1st class insured, otherwise Priority flat rate.
•Reservation fees are part of the overall cost of the program and are non-refundable.
•For optional items that you reserve, these will be charged and ship on the first month.
•Finally, should you make a mistake on your block, and if we have the fabrics in stock, we will replace the fabric
at no extra cost to you!
Fabric Type: 100% Cotton Quilting Fabric
Item Tags: Judy Neimeyer Paper Pieced Quilt Kits, Batik Quilt Kits
More Favorites Related to this Item: