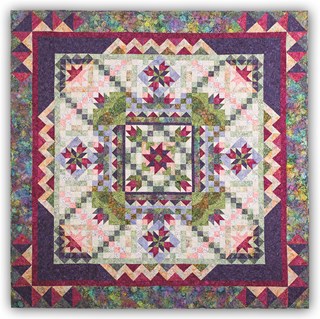 Botanica Park Batiks King Sized Block of the Month or All at Once by Wing and a Prayer! - Start Anytime Review
Botanica Park Batiks King Sized Block of the Month or All at Once by Wing and a Prayer! - Start Anytime has not been rated yet.
Write a review
Scroll Over Image for Close-up!
Botanica Park Batiks King Sized Block of the Month or All at Once by Wing and a Prayer! - Start Anytime
ProductID: ZM-WP-Botanica
$21.99
Reservation Deposit
Take a Tonga stroll through Botanica Park, where the beautiful colors and design will bring you to any Botanical Garden, from Australia, to England, all the way to Wichita Kansas! The collection features 14 Tonga batiks in a garden of greens, blues, blossom pinks & berries, and lavender that melts into rich purples.
The quilt highlights the colors in a traditionally pieced blooming center block surround by patchwork paths and curved sculpture garden corners.. Resembling a beautiful botanical garden, the stunning design by Wing and a Prayer, Botanica Garden quilt uses traditional piecing with beautiful fabric color combinations.
CLICK HERE TO SEE A CLOSE-UP OF THE QUILT!
Basic piecing techniques with easy-to-follow instructions, combined with a variety of block sizes make this quilt desirable for both the novice and savvy quilter alike.
This is a King sized quilt, measuring 107" square, and we offer this as a Block of the Month or as an All at Once version. The kits include all of the fabric required to complete the quilt top as shown in the original, including binding and pattern.
Block of the Month
The block of the month costs $28.49 per month plus shipping costs for 12 months, plus the initial reservation deposit.
Accelerated Block of the Month
Automatically be shipped two blocks each month. The cost is $56.98 plus shipping for 6 months and the initial reservation deposit.
All at Once - Free US Shipping
The All at Once version is $341.88 plus the reservation deposit. You will initially pay the reservation, and the balance will be charged when we are ready to ship out the kit. US Shipping is Free on the All at Once, and our International Customers receive a 20% Shipping Discount.
Backing
Coordinating Backing fabric is also available - $120 for the King and will ship the first month.
Botanica Garden Crystal Set
Want to bling up your quilt even more? We have put together an Exclusive Botanica Garden Swarovski Crystal Pack - More diamond color crystals, as well as purples, greens, pinks and blues to make your quilt really sparkle! This pack has 3000 crystals for a value price of $270.
Fun Facts about our BOM Programs
•Should you be participating in more than one BOM with us, we will combine your orders to save you on shipping costs!
•Also, please note - while we do accept Paypal for the Reservation Deposit, we will need a credit card on file for the duration of the program.
•Shipping - we will ship insured, and if the blocks weight allow, it will be 1st class insured, otherwise Priority flat rate.
•Reservation fees are part of the overall cost of the program and are non-refundable.
•For optional items that you reserve, these will be charged and ship on the first month.
•Finally, should you make a mistake on your block, and if we have the fabrics in stock, we will replace the fabric
at no extra cost to you!
Item Tags: Wing and a Prayer Batik Quilt Kits, Queen Sized Batik Quilt Block of the Month