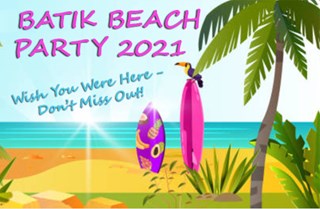 All New! Batik Beach Party 2021 Product Review
2 reviewers gave this an average rating of

---
Deb K


Comments: I have also done all but one year. I have given some away as gifts, but I keep most of them because we have a beach cottage rental, so I fill it with these. Thank you Teresa -- From Deb K.
Date Reviewed: 2/4/2021 11:33:01 AM
4 of 4 found this review useful.
Did you find this review helpful?
Report this review
---
Hanna Mink


Comments: I love this program and have done it since the beginning. These have made great gifts, too.
Date Reviewed: 2/4/2021 11:21:43 AM
5 of 5 found this review useful.
Did you find this review helpful?
Report this review
Scroll Over Image for Close-up!
All New! Batik Beach Party 2021
ProductID: ZM-Beach-2021
By: Homespun Hearth Exclusive Design
$4.99
Reservation Deposit
Now Taking Sign-Ups for Homespun Hearth's Exclusive Beach Party 2021!

Join us as we celebrate our 10th Year of Beach Parties! Come celebrate Summer fun and join the Beach Party 2021 where every month for Summer  (4 in all) you will receive a beautiful, easy, and fun quilt kit that is perfect for those long summer days in the sun!  

The Beach Party kits ship only in June, July, August & September, and includes the fabric required to complete a quilt top (including binding), and the pattern downloads will be in your account. You will also receive additional surprise bonus gifts!

The lap-sized quilts are easy enough for the beginner quilter, and interesting and fun for the savvy quilter, too.   You can also have the coordinating backing included with your shipment.   These exclusive designs use the highest quality fabrics, and their beauty will be a favorite for you each and every year.  Oh ... and did we mention these are BATIKS!

The cost of each of the four shipments is $119.99 plus shipping.  There is also a $4.99 non-refundable reservation fee, and coordinating backing for each month is also available to reserve.
The quilt designs each month are top secret ... but you will love them all summer long!



Fabric Type: 100% Cotton Quilting Fabric
Item Tags: Pieced Quilt Kits, Batik Kits, Mystery Kits, Exclusive Clubs, Quilt Fabric, Homespun Hearth Special, Quilts
Customers who bought this item also bought: