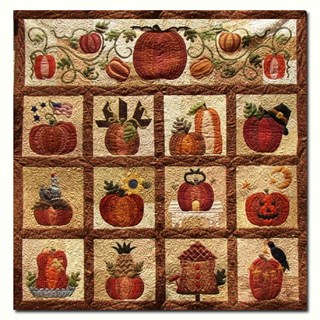 The Great Pumpkin Cotton Quilt Kit BOM - Start Anytime! Product Review
One reviewer gave this a rating of

---
Mary


Comments: I just stared this BOM - what a great program. The fabric selections are a perfect compliment to each other. Easy to follow instruction including the fabrics individually labeled for easy assembly. Great Program for Great Pumpkin!
Date Reviewed: 6/28/2012 11:59:14 AM
60 of 72 found this review useful.
Did you find this review helpful?
Report this review
Scroll Over Image for Close-up!
The Great Pumpkin Cotton Quilt Kit BOM - Start Anytime!
ProductID: ZM-TGP100-Cot
$5.00
Reservation Deposit
This stunning design is a masterpiece for anybody who loves the harvest season and pumpkins! This 78" x 75" quilt features 19 different pumpkins that symbolize this favorite time of year and the stunning blend will be an heirloom for generations to come.

Using 100% top quality cottons from your favorite Textiliers (including Moda, RJR, & Red rooster to name a few) in pumpkins, mustards, harvest greens and rich earth-tone colors and textures, including woven herringbones, houndstooth and checks.

The monthly kits incude 100% top-quaity cotton fabrics, and easy-to-follow instructions and full size templates required to complete the quilt. The final (15th) shipment will include the sashing and binding fabric. Backing fabric (4 1/2 yards) is optional. (our fabrics will vary but match in colorway. This is a 15 month program.

The cost of the Cotton Block of the Month is $29.99 per month plus shipping costs. There is also a $5 non-refundable reservation fee.
Fabric Type: 100% Cotton Quilting Fabric
Item Tags: Quilting Fabric, Quilting, Fabric, Free Gift
Customers who bought this item also bought: