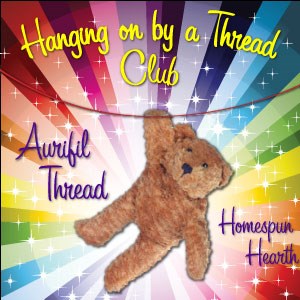 Aurifil "Hanging on by a Thread" Club Review
Aurifil "Hanging on by a Thread" Club has not been rated yet.
Write a review
Scroll Over Image for Close-up!
Aurifil "Hanging on by a Thread" Club
ProductID: ZM-Aurifil-100
$1.60
$2.00
Reservation Deposit
Aurifil Thread is the leading Quilting, Piecing, Applique, Sewing, Serging, Embroidery, Redwork, and Embellishment thread around the world. At Homespun Hearth, we choose nothing but the best for our quilts, and so we use Aurifil Cotton Mako' 50 Thread. Cotton Mako' 50 is perfect for all our needs - the long staple Mako' cotton is very smooth and strong, and with 182 solid and 34 varigated colors, there is always a perfect color match for both the quilt top and the bobbin, and there is never an issue with breakage or lint build up in our machines. Plus, because this thread is fine, our quilt blocks are not distorted, giving us more beautiful and exact results every time!
We are so excited to announce our 'Hanging by a Thread .. .Aurifil thread Club' -- found Exclusively at Homespun Hearth! Members of this Elite Thread Club will receive a monthly shipment of 6) 1422 yard spools of Cotton Mako' 50 Thread. Over the course of approximately 30 months, members will receive every color, featuring groupings such as:
Tropical Delight
Country Ho-Down
Oh Sweet Baby
Autumn Leaves
Winter Wonderland
Heathered Moors
Sunflower Fields Forever
Red Rock Canyon
Aurora Borealis
Tulip Gardens
With each group, Members may also receive more neutral colors and variegated colors.  Members also receive a 15% discount on the club threads for a total of 72.84 - Plus FREE US SHIPPING  And, even sweeter, Aurifil Club Members  receive 10% discount on all Aurifil thread purchases, so should you need to replace a color, you will always save at Homespun Hearth!
These are charged on the 1st Monday of the month and shipped in the first half of the month. There is a $2 non-refundable Membership Fee.Monthly Program Costs:
Thread - $72.84 Also, should the cost of thread increase, we will continue your program for 3 months, and then give you the option to continue at the modified price
Please Note - While we accept Paypal for our products and reservation deposits, we must have a Credit Card on file for all Monthly Autoship programs. Thank you for your understanding
Item Tags: Sewing Accessories, Thread, Exclusive Clubs, Notions, Kits, Aurifil Thread, Quality Thread, Quilting Thread, Thread Club, Aurifil Quilting Thread