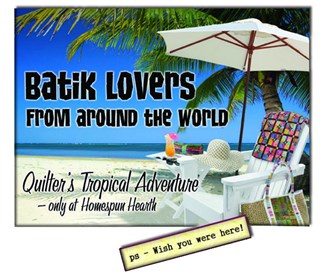 Batik Strippers Club Review
Batik Strippers Club has not been rated yet.
Write a review
Scroll Over Image for Close-up!
Batik Strippers Club
ProductID: ZM-QTA-BSC01
$2.40
$3.00
Reservation Deposit
Join Homespun Hearth's Batik Strippers Club and every-other month (6 per year) we will automatically send you a new Stripper Combo - a Mystery Batik Strip Roll, 2 Coordinating Yards of Fabric, plus a complimentary Stripper pattern for you to use with your strips.

Mystery Batik Quilt Kit & Tote Excursion Months:
February
April
June
August
October
December

The shipments each month include the Batik Strip Roll, 1 yard of Coordinating Focus Fabric, an additional 1/2 yard of two coordinating fabrics, and a complimentary pattern just for strippers. The collection for each month is from one of our Batik Masters -- to include Princess Mirah, Island Batik, Hoffman Batiks, Moda Batiks & More.

Coordinating Backing is also available - we will send you 5 yards of coordinating backing to match your strip. The cost is $49.87 which includes the 5% club discount.
The cost of each months shipment is $59.99 and the prices reflect the member's 5% discount on each month's auto ship. Shipping costs not included.
Item Tags: Batik Boutique, Quilters Tropical Adventure, Kit of the Month, Pollys Purse Parade, Exclusive Clubs, Homespun Hearth Special, Batik, Batik Adventure, Fabric club