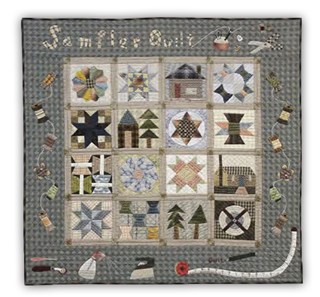 Sewing Room Sampler Book Review
Sewing Room Sampler Book has not been rated yet.
Write a review
Scroll Over Image for Close-up!
Sewing Room Sampler Book
ProductID: ZB-SEW-SAMP
By: Yoko Saito

The Sewing Room Sampler Quilt combines two of Yoko Saito's favorites: blocks featuring traditional quilting motifs, such as stars and houses, plus one of-a-kind sewing-themed applique designs. This quilt makes the perfect decoration for a sewing room or home of a fellow quilter.

Step-by-Step color instructions illustrate how to piece the 16 blocks together and assemble the quilt. Full-size templates of the applique motifs are included on a pattern sheet.
Item Tags: Quilt Made with Japanese Taupe Colors