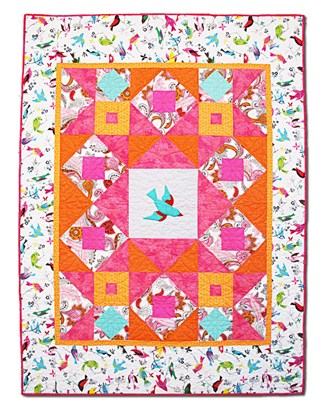 Tropical Sunset Flight Quilt Kit Review
Tropical Sunset Flight Quilt Kit has not been rated yet.
Write a review
Scroll Over Image for Close-up!
Tropical Sunset Flight Quilt Kit
ProductID: ZK-BBre11
$116.00
$128.89
per quilt kit
A breathtaking design by Donna and Cathy of Bittersweet Blessings, this 50" x 68" quilt features an applique bird taking a solo flight in a tropical sunset sky. With bright raspberries and tangerine colors, along with aqua splashes of color, this sing-song flight is tranquil and beautiful!

The kit is a 'first cut' kit -- each of the initial first cuts have already been cut -- and all of the fabrics required to complete the quilt top as shown, including binding and easy-to-follow instructions are included. The applique can be completed in your favorite style, and the large, easy blocks will come together in a snap! Backing requires 3.5 yards and is sold separately.
Fabric Type: 100% Cotton Quilting Fabric
Item Tags: Quilting Fabric, Quilting, Fabric, Free Gift
*Please Note
-
Layaway available on this item
More Favorites Related to this Item:
Customers who bought this item also bought: